OK Google ad on TV made me try it out and it worked brilliantly
An ad for OK Google came on the TV. It was all about where to find the nearest cake shop. I immediately tried it. It worked perfectly. Just liked it did on the telly.
It was astonishingly accurate. I've since tried it for other things. The weather forecast for example. I said "OK Google , what's the weather forecast tomorrow?" it not only came up with the forecast for my postcode but a voice spoke it.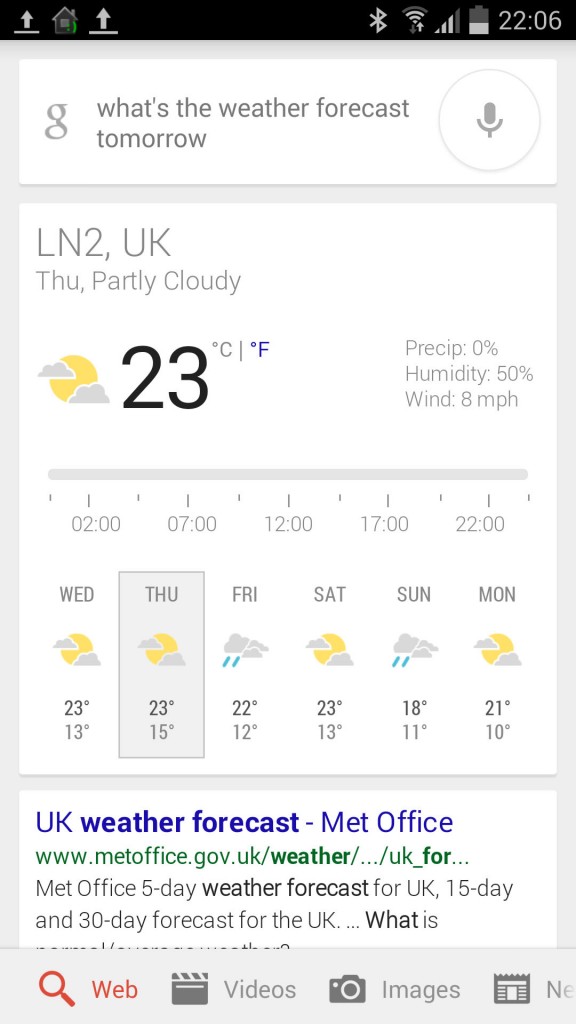 Voice recognition technology has seriously come of age. I remember years ago buying a Dragon voice rec software package. I used to be the Press Officer for Lincoln Rugby Club. I had a theory that I could dictate details of matches onto my Sony voice recorder and then use the voice rec software to turn it into text.
It never worked. In those days the software had to be trained, PCs weren't powerful enough and in any case there was too much wind noise for it to have a chance.
Given a suitable mobile data connection I think it would work now with me dictating straight into the phone.
Getting back to the weather forecast one has to be glad that it is looking good for the first day of my holiday:) Plenty of time for it to go wrong yet but I'm sure that OK Google will keep me posted.
OK Google isn't perfect. I just asked it "what should I wear tomorrow?" It came up with clothing advice sites. That's not what I wanted. I wanted it to to tell me which combination of shorts and tshirt I should get out of the drawer. It'll get there.
After that it will need to pre-empt my needs by ordering my clothes for me from the shop. Life will be full of surprises.
Ok Google. Time for bed. No answer required. Just letting you know.