Thought I'd slip this one in – adult content filter eh 😉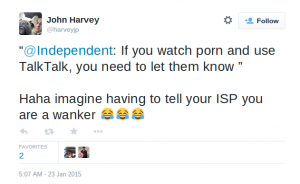 I don't know John Harvey but he seems a fairly forthright kind of guy. From Yorkshire maybe.
It's not so much that you are telling your ISP anything when you opt out of the adult filter, or whatever it's called. We doubt that any human intervention is involved in the process. It's the likelihood that the information that you don't wish adult sites to be blocked is leaked or hacked. That's the issue.
If the information isn't there is can't be hacked. If this was an opt in that would sort it, aside from the fact that these filters aren't renowned for their accuracy.
As an aside I assume that this site will henceforth be blocked by these filters. Probably already is. Parents don't want their kids to know that they go to parties like trefbash or the pissup in a brewery. The blog was once blocked by the Timico firewall as "social media" sites were frowned upon by whoever set the policy in place (not me – I used to spend all my time on social media – I had a different set of permissions:).
The question is would Twitter be blocked. There's a lot of graphic language on Twitter. I once unfollowed someone because of his non stop use of swear words. Not my kind of thing. Would be interesting to hear from anyone who has adult content filtering in place to see whether Twitter was visible or not.
Looking on the positive side, if you have opted out of the adult content filter, and are therefore "down on the list" you can always say it's because you wanted to read posts on trefor.net;)
Effin read it first on trefor.net. wtf!
Read this highly popular and relevant post on the consequences of allowing government to monitor our online habits here.