Natter Natter Natter Oy Oy Oy
The nature of the modern world is that people frequently have to travel as part of their job. In the internet plumbing game this is even more the case. I don't think I've ever worked in an industry that has more conferences and meetings. In the UK alone there are 4 x 2 day LINX meetings, 3 x UKNOF meetings (that seem to extend to two days one way or another), a couple fo LONAP events, two ITSPA workshops and numerous miscellaneous other events.
Being involved with LONAP I also have other international events such as Euro-IX and RIPE meetings to attend.
The point is that wherever one goes one's office goes with you. It wouldn't have been so many years ago that this would not have been a simple activity. Taking this to the extreme I remember early on in my business career having to send a proposal to our New York office for onward transmission. The whole thing was faxed. I had a word processor but not email. The internet was in its infancy and applications a rarity.
I made many last minute changes to the somewhat substantial document but each change had to be made entirely within the page. I had to be able to refax a single page without having to change any of the other pages as this would have meant resending the whole document. We won the business btw 🙂
That sort of activity would have been unthinkable in our modern fast moving world. I've just had to fill in a new supplier form for an organisation I am doing business with. It needed a signature. I don't do paper! I very rarely have to print anything out so this form is a bit of a nuisance.
No problemo. I scribbled my signature on a scrap of paper, took a picture, uploaded it to google drive, cropped and trimmed, inserted into the doc and downloaded as a pdf for sending. Hey presto a signed doc. Whether they accept it or not is another issue. These things are sent to try.
Today I am working from a hotel room in Liverpool – the featured image is the view from my room. Iconic. I'm not using the hotel WiFi as I have my EE MiFi which is more reliable. At least more reliable than the free WiFi. The premium service might be ok but hey…
I'm here because my dad is in hospital for an operation. Tref's taxi service etc. As it happens both sisters had the same idea so we are having an unscheduled family get together. It's worked out as I then didn't have to get up at 6.30 to take dad to the hospital.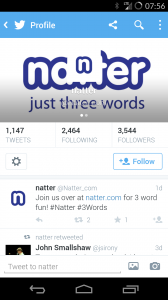 Anyway it's actually just a normal working day out of my hotel room. As I was lying in bed this morning catching up on stuff on my intergalactic hand held communicator I was shoved an ad for Natter by Twitter.
Natter is "yet another social media platform". I guess. You are only allowed three words. I signed up and had a play. My first attempt was "one two three". Then I realised this was quite boring so I decided to see what I could get away with. I went for "supacalifragalisticexpialidocious  Pseudopseudohypoparathyroidism #Pneumonoultramicroscopicsilicovolcanoconiosis".
Natter came back with messages:
Just Three Words, please! (You can also include one @username and a #hashtag) and
is too long (maximum is 75 characters)
I looked up the last two words btw but the first I already knew.
I can't see Natter becoming the hit that is Twitter. Note the 3,544 followers cf the 34 Million of @Twitter. This means it's guaranteed to be successful but hey… Other than signing on to make sure I get a decent username (tref) which I do for new things that I come across, I am unlikely to adopt it. I haven't got any followers and follow noone. I also note that Natter was launched in Bath in 2011. It must have just got some cash to advertise but in four years I'd have thought it would have already come to my notice if it was going to take off.
I do quite like the idea of keeping it short. After all Snapchat has taken off with exactly this philosophy though others have also gone before and failed. There was a 7 second video service whose name totally escapes me but seems to have disappeared from view.
I suspect 3 words ain't enough though. Now the Haiku is a different game. With the Haiku you have 17 syllables to play with and the result could be quite classy. Constraining people to writing only in Japanese poetic form might limit the audience but we aren't in this game to pander to the masses are we? Eh?
I've rambled on enough. This self indulgent blogging is all very well but there is a business to run. From my hotel room.
Ciao.
PS I'm https://natter.com/user/tref on Natter