How to choose anti virus software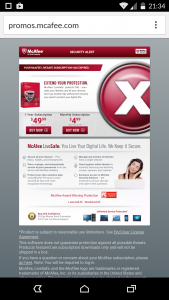 As regular readers will know I don't use Microsoft software anymore. I've suffered from so many problems in the past that with the advent of Chromebook and the cloud I exist happily with my head up there in the fluffy stuff.
This is not the case for all members of my family and my wife in particular still has a Windows 8 laptop (yuk). In fact I only bought it to run our CCTV monitoring software but it does very occasionally get used for other things when her iPad doesn't cut the mustard.
Because family PCs have suffered badly from viruses over the years I made sure that when I bought the cheapo Windows 8 laptop it was covered by McAfee anti virus software. It was a deal that covered the whole family for £25 if I recall. Fair enough. Install and forget.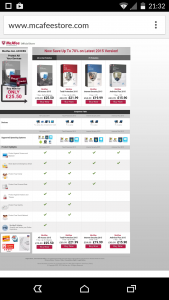 Last week the license ran out. McAfee bless em wanted £59.99 for me to renew. I looked online and saw a number of deals including a lowball £25.50 but decided to nip into PC World so see what they had.
All they could do was £60 including a white labelled online backup service free for the first year. A bargain at £30 pa thereafter for 2TB. However I'd been stung in the past with that. Or at least one of the kids had when he installed it on his laptop only to have the thirty quid taken from his youthful bank account the following year. Phone calls to PC World revealed that they didn't actually control the service and no way Jose could he have his cash back.
I gave him his money, deinstalled the (unused) client and asked PCW to cancel next year's subscription. Shysters I thought. So I wasn't going anywhere near a product that could only give me a (inadequate) discount based on taking the backup service.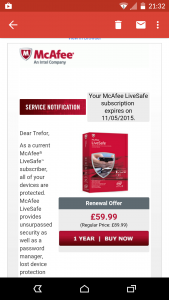 The salesman/advisor simply suggested Norton at £40 (£39.99). No problemo.
I got home and commenced installation operations. To begin with I had to wait half an hour whilst the laptoip updated the Microsoft software. Then I had problems with the Norton site – their servers were overloaded – hope it wasn't a virus.
Eventually I managed to download the executable and began to install the Norton Symantec anti virus software. This took ages because it needed to deinstall McAfee which took several reboots and a number of Microsoft updates.
Gor Blimey. The next day I found that "windows 8 has its own anti virus but I also need it to cover a kid's Window 7 machine and a MacBook Air. Hey.
I realise that Microsoft is following Google into the cloud but it doesn't remove my present pain. These security software vendors are also seen to be dubious wheeler dealers with all the various deals to confuse customers. Can they survive the fact that in the cloud all the security services seem to come free of charge?
Read all about how to choose anti virus software on Wikipedia.