Ashes Trent Bridge Day 2 Report
The 2015 Ashes tour has come to Trent Bridge, my nearest test ground. I go every year with the lads. Ground capacity being what it is not everyone can go and indeed some prefer to stay at home and watch it on the telly. However when you do that you don't get the atmosphere. Here's some of that atmosphere:

I'm not going to attempt to cover the cricket. You can tap into a match report from any of the mainstream sources – here's the Beeb.
What the press doesn't cover is the nature of the fans' day out. This is, to a greater or lesser extent,  pretty ubiquitous unless you are taking the kids along in which case it is an alcohol free day out travelling by car.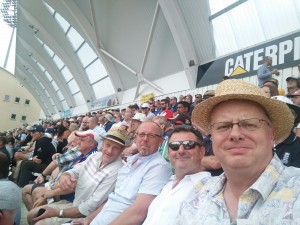 08.10 meet lads outside Lincoln Central Station. Hand out match tickets in exchange for £75 in used notes each. Very conscious about carrying so much cash but hey. Purchase day return to Nottinham, large tea from caff and mosey over to platform 4 to get on train which is waiting for us. Good job we got there earlyish (08.35 dep) as the train fills up very quickly. I recognise some faces from the Lindum Cricket Club.
09.30 arr Nottingham on a train which is by now crammed with cricket supporters – squeezed into the aisle. Taxi to ground for a fiver. It is very walkable but we have a table reserved at The Southbank Bar, owned by a mate of Ashley's.
09.35 we order 4 "Big Ones" and 4 pints of Peroni.
I've already described the general pace of the rest of the day here. There are a few auxiliary notes relevant to this particular day out.
10.30 pay up and nip over the road to the ground. Huge queue if you have a bag but 3 out of 4 of us are bag free. Ajax has a bag that contains cheese, pork pies, coronation chicken sandwiches, 4 plastic glasses and a 3 litre box of Banrock Station Australian (appropriately) red wine. We worry about Ajax because they don't allow you to bring drink in to the ground. Ajax succeeds in smuggling it in. The box was hidden at the bottom of the bag.
10.45 we establish a kitty and purchase 4 pints of lager at the bar before settling into our seats.
The one thing I particularly noticed about yesterday at Trent Bridge was the hugely partisan nature of the crowd. We have to remember this is Australia we are playing. They give no quarter themselves and are famous for their sledging (look it up). So when we get the opportunity to give some back they get it back by the tankerful.
The Australian captain Michael Clarke is under huge pressure because his team hasn't been performing and his own person performance has been very much under par. As he came out to bat the merciless crowd sang "You'll be sacked in the morning" to the tune of Guantanamera. We also sang it as he trudged a lonely path back to the pavilion after scoring 13 runs.
Immense psychological pressure. That guy had almost the whole ground sticking the knife in and twisting it, foot on the throat (etc).
We had a great day which was only very slightly tempered by the fact that bad light stopped us from finishing it off last night.
I'll leave you with Stuart Broad (I think) bowling at someone.

The end.