VoIP monitoring tools for the 21st century.
I'm doing some work with a company called Netaxis Solutions who amongst other things provide a suite of VoIP monitoring tools for network operators/Internet Telephony Service Providers. This post highlights how the operational requirements of ITSPs change as they grow. Customers get more demanding and it becomes increasingly important to up the game when it comes to support.
…
Communications providers use all sorts of tools to run their networks these days. Many of them are open source, particularly in the ISP game. ISPs almost run their business on free software.
The downside of this is that you have to have enough engineering resource support and manage these tools. This is fine when a business is small and the small team of network engineers is both netops, dev and support.
When a business grows and evolves into distinct functional departments, as we all hope ours will, the game changes. Not only does the larger organisation tend to have fewer generalists who can do everything and hence support every bit of open source software they have grown up with. The growing business tends to have demands put upon it by its customer base that applies stress to an organisation and forces it to change. Customers of such businesses want less downtime/increased reliability, better quality and more responsive technical support.
If a business copes with this stress it has a chance to succeed and part of this success is its ability to evolve its systems to cope.  They can't afford to have someone spending half his time trying to fix his own software build whilst at the same time helping a customer.
This evolution not only means more integrated help desk, ticketing, scheduling, provisioning and billing functions (etc). It also means a move towards automation in the network wherever possible. We are already seeing this with the advent of Software Defined Networks (notionally – do you know anyone who has implemented one?) and the automated provisioning of Wide Area Network connectivity.
The integration of voice and data networks adds to the pressures. Why is that connection poor? Is it congested? Is the link down? Is it using a low quality voice termination partner? Is there something going on in the LAN?
One key area in this new world of engineering operations is the toolset that is needed. You want to be able to tell at a glance whether there is a problem, or even when a problem is about to happen. Being able to see what is going on and respond quickly is not only going to be a way of keeping customers happy and growing your business from your existing base but it is also going to entice new customers.
In the voice world the tools required are very specific. We need to be able to properly understand what is happening to voice in a network. Whilst the technology involved is more complicated in one sense in another it helps to make life easier. We now have tools that are far more flexible than just being able to see whether a specific link is up or down as might have been the case in the old circuit switched world.
Now we can drill into problem areas in a network in a very granular way because all connections are IP enabled. Problems can be isolated to specific phone calls and specific network connections or trunks. We can employ tools that give us a very clear picture of what is happening.
Is a trunk hitting it's headroom for simultaneous call capacity? Is the call quality deteriorating and why? What is the MOS score? Is the trunk down? We can even see whether a connection has been deteriorating over time.
Think of the peace of mind you would give a  customer if he knew that you could foresee problems and fix them before they happened. It is even a revenue opportunity. Have you thought about upgrading from xDSL to Ethernet Mr Customer. Or do you need some more SIP trunks?
You would certainly be able to make him happy by fixing his problems quickly when he calls in to complain.
There are tools available for this type of service. Vendors of Session Border Controllers provide them for example. They ain't cheap though and an SBC user interface isn't particularly easy to use.
Really you need to find something that does the job in a cost effective way. I've been doing some work with a gem of a company called Netaxis Solutions. Out of 25 people 23 or so are engineers which is one of the reasons I got interested in them. Netaxis have sponsored a number of trefor.net events in the past 12 months (declaration of interest).
Netaxis are not only all nice guys but they are also a multi talented group of people who work with Tier 1 and 2 operators to provide VoIP solutions primarily for corporates such as banks and insurance companies. They have a string of VoIP vendor accreditations as long as your arm with terrific experience of deploying and managing multi site VoIP rollouts. They are kings of the SBC and the softswitch.
Over the last few years in performing this sort of work Netaxis have seen the need to develop a set of tools that help them support their customers' networks. These tools support functions such as monitoring and reporting, call simulators and traffic generator, fraud detection and a self care and provisioning portal.
I've just done a quick screenshot of one of the tabs of Nemo, the monitoring tool. The picture is just sample data but you can immediately see how you could make use of the facility. A customer's call traffic patterns will show whether they have enough capacity to service their peak needs. It would be an easy way to upsell additional SIP trunks or to help a customer see where their problem lies.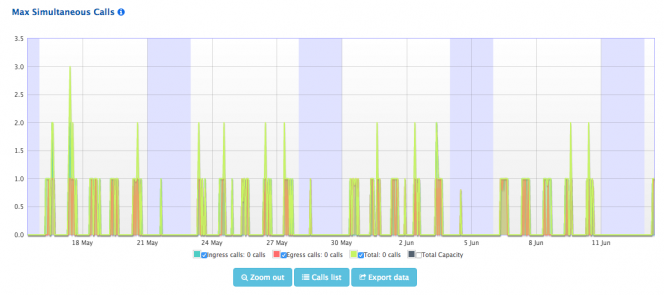 Nemo allows you to drill into specific customer accounts, even to individual telephone extensions and check out the relevant statistics. Imaging being able to track the MOS scores over time – an easy way to anticipate problems or to see when a specific problem happened.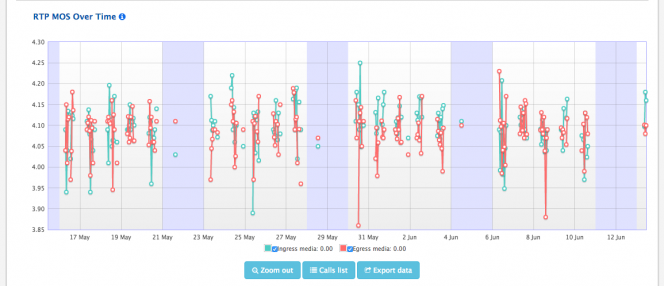 I'm not going to spend too much time itemising everything that can be done but it gives you the idea. Drop me a line if you want to know more or come and see me at the trefor.net Telecoms Fraud Workshop tomorrow in London.