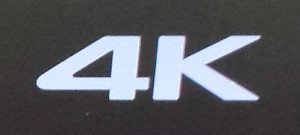 Continuing with the weekend posts I swung by PC World and Currys. Looking for a speaker system to add a bit of richness of experience to the Chromecast we installed last week. PC World hardly has anything – they are moving back to their computing roots.
Currys is where it is at for this

kind of stuff. I was unnaturally thrilled to come across this Sony 4K Ultra HD TV (the good old KD-55X9005A). A snip at £3,299. OK it is a nice TV. The picture quality was great. However £3,299 puts it in the more money than sense bracket. Since when has that been a problem for the multi-millionaire looking to impress the bloke in the next mansion.
I imagine that the promo video it was playing on the loop was one of the few bits of content you could get for it. Apparently you get 8 "free" Blu-ray discs to watch when you buy the TV.  I managed to find 10 movies available in 4K format on one site and 11 on another – all Blu-ray. I'm sure there will be more.
It is early days for 4k TVs. Of course prices will come down. However I may be wrong but I can't imagine that Currys will sell many this Christmas. If you are going to blow the dough you might as well buy the Bose sound bar for three hundred quid. Great offer.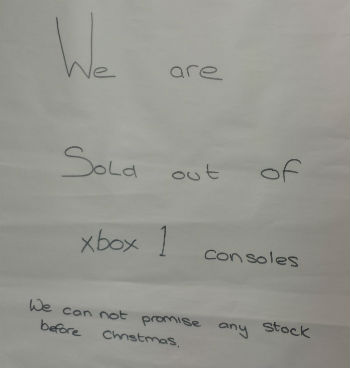 The XBox1 console on the other hand is a different kettle of anchovies. If you ain't planned ahead on this one you're not going to be taking it home from the Lincoln Currys store, nosireebob.
Currys look as if they were caught by surprise with the rush because they have had to scribble a quick sign guaranteed to disappoint the eager gamer looking to upgrade his or her experience for the festive season.
Can't understand why you'd want it meself but I don't think I'm representative.
I leave you with a video taken of the TVs in Currys Lincoln. I am easily impressed and thought that the splendid array of colour was very nice.
Ciao beb.