Having read Terry Hughes' Chromecast review I eventually got round to rushing out (metaphorically) and buying one from Amazon. It was forty two quid or so ($35 in the USA) but the cheaper ones involved longer shipping from the States or an additional postage charge so ripped up the budget and clicked.
The Chromecast is now installed and in use. I have some observations:
You have to actually physically switch on the Chromecast dongle – it doesn't just power up in the "on" state
Installation from Chromebook didn't work. I don't know why. I moved on to do it from the S4.
Installation from my Android was very simple. I guess this is it's core use market/scenario (if that's the right phrase)
The dongle sits nicely and unobtrusively at the back of the TV and is powered by the USB port of the TV (didn't realise I had one but now I do – phew – Anne would have complained if there was another dangling cable)
It is very easy to use. In my case I just selected HDMI2 input and hey presto…
It is also easy to "cast" content onto the TV from your phone – there is a small icon to select inside the app view.
Now this is where it starts to get interesting. You can use Chromecast to stream movies, music, YouTube and Netflix. I only use YouTube to store the occasional vid for use in embedding in this blog – as in this post for example. I have no interest whatsoever in Netflix content – though many others must be as it takes up a significant chunk of ISP bandwidth. I have no movies to stream (and rarely watch them anyway – 90mins?!) and all my music is on my phone.
The latter point is definitely interesting. This is all about driving traffic into the cloud. In moving operations to Google Apps, Chromebook and cloud storage I began the process of shifting my music to Google Music (or whatever it's called) but I stopped for some reason. I think it might have been because it involved entering my credit card details. Obviously Google wants to make it easy for me to buy more music.
Currently any music I buy is in CD format and I then upload it to my phone. In my new cloudy ecosystem I may have to rethink this. Although I like having a CD in its case to touch and feel this might be because I've grown up with that experience. My kids think nothing of buying music from iTunes and never having a "hard copy".
Chromecast is likely to change my habits here. I had already been thinking of buying a surround sound system for the TV room and this may top the balance in its favour.
I will also say that I was astonished at the quality of HD streaming on our TV. Although the TV is HD "ready" we have never had an input source to supply the HD – no Blueray, no Sky, no Virgin etc. The HD footage I took with my Samsung Galaxy S4 – this ride on Stephenson's Rocket for example, was really good quality full screen 1080p on our 42″ box (flat panel).
It was also very easy for multiple users to take advantage of the Chromecast. One of the kids came home from a music rehearsal and had downloaded the App and got it working in seconds. The kids are much bigger users of YouTube than I and he was streaming jazz videos in no time, (until his mum wanted to watch the news).
In conclusion – Chromecast – very easy to set up and use, obviously aimed at delivering content from the cloud, and could well move my music listening to streaming from that cloud. It's all driving bandwidth use. Onwards and upwards.
I note Phil's comment re waste of space. It does need to support more apps. I didn't try seeing if I could surf using it but I suspect not – it would have been more in my face. Rewind – just noticed this icon in Chrome – not tested it but looks positive.
Update on casting from Chrome browser here.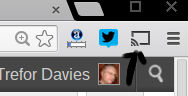 Update 17th March Google Chromecast to become available in the UK – leading to lots of visitors to reviews on this site