Consumer Rights is a far less toxic term than Net Neutrality.
I've previously written for Trefor.Net on the subject of Net Neutrality and what it means to members of the VoIP community. And I think it's high time for an update, but this time considering consumer rights.
After a promising start the European Union went off the rails, passing a first reading of a text that essentially outlawed 4G services. VoLTE requires prioritisation. Hard line elements on the subject of "net neutrality" managed to convince a strange coalition that it was a good idea to promote their ideological definition just before an election. It was spun as a vote winner, this despite that fact that 999 calls would no longer be treated differently. Consumer rights being protected, were they?
Unforeseen consequences at their worse, which is why I believe that net neutrality is now a toxic term and should be avoided. In fact, I've worked on briefing documents that are four pages long that completely avoid the term. I also try to avoid "Open Internet" for similar reasons, as both — as I've written before — mean different things to different people.
That's where consumer rights come into play.
What we want is a level playing field. We want a distribution system for content that doesn't discriminate against certain types of lawful content for vested reasons. Most of all, we don't want people misled, and we want consumer rights upheld.
If you ask the average consumer on the street whether Skype and YouTube are part of the internet, anyone other than a recent immigrant from Outer Mongolia that would no doubt answer "no". By extension, I defy you to find anyone, other than hardcore employees of EE and Vodafone, who would suggest that internet access does not include access to Skype, YouTube, or similar services.
Remember the outrage when people were buying 15 burgers for 99p and it transpired that those burgers were made from horses? It's the same thing. It's a basic principle of consumer law that you don't mislead at the point of sale; be it overtly or through trickery in the small print. Consumer rights need to be protected.
This is why I was so heartened to see Philip Davies MP (Conservative member of Parliament for Shipley) build upon his great performance sticking it to Ed Richards (Ofcom CEO – 40 minutes into the video on the link) on the subject by tabling an amendment to the latest consumer rights bill. This amendment basically just said that you can't call something "internet" unless it complies with the spirit of everything I've said before. For those who are interested, the amended stated;
A term which has the object or effect of permitting a trader to block, restrict or otherwise hinder the access of a consumer to any lawful Electronic Communications Network or Electronic Communications Service on the basis of an unreasonable or unusual definition of "internet access", "data", "web access" or similar word or phrase. Nothing in this prohibition shall affect filters for the purpose of child protection.

Electronic Communications Network or Electronic Communications Service shall have the same meaning as in the Communications Act 2003.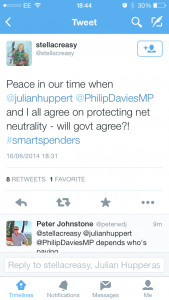 Philip Davies MP is a libertarian Conservative and as a result is one of my favourite MPs. This means he's often at polar opposites to Her Majesty's Opposition and an uncomfortable bed fellow with their coalition partners. That makes it even more incredible that the amendment was gladly supported by both the Shadow Minister, Helen Goodman MP and Julian Huppert MP (Liberal Democrat Member for. Cambridge and a good advocate for the technological community). A rare moment of cross party backbench support that, alas, was defeated without Government support, which is still backing the self regulation horse.
All the amendment sought to do was to ensure that the likes of Vodafone and historically EE would be unable to call a spade anything other than a spade and that consumer rights would be upheld. As such, defeat was a great disappointment.
In any event, word on the street is that there may soon be new signatories to the Broadband Stakeholder Group's Open Internet Code of Conduct. The amendment may get re-tabled in the House of Lords. And The Council of Europe may well get its ducks back in a row.
The battle is one that is very much being fought on three fronts, however the momentum is now behind those of us who just want a level playing field to compete on. Who knows, it might even be over by Christmas.