The only sensible way to travel to central London is by train. Whilst it isn't cheap it is fast and has the benefit of allowing you to usefully use the time doing work and of course tweeting and writing blog posts.
I was tweeting away during one such trip and one of my pals, @HmmmUK, suggested I write a post on the connectivity on board the train. This is that post (said in a dramatic booming sort of voice).
Finding out all about the service was easy. Icomera, the company that provides it, proudly boasts about it on their website. I had thought it was satellite based but surprisingly it is based on a combination of satellite and 3G.
The connectivity is based on the good old "Moovbox M800" which you may not have known "provides a central network connection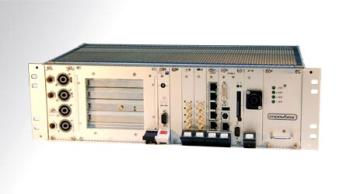 for all the real-time communication needs of urban and suburban rail systems…
…combining up to eight cellular WAN radios with an aggregated downlink speed up to 28Mbps (in our dreams). The Moovbox will automatically change between network types including HSPA, 3G UMTS, EDGE and GPRS to deliver the best connection possible depending on network availability. The M800 can also be configured with a DVB-S satellite module for connectivity in areas where terrestrial networks and unavailable. Each cellular radio supports two SIMs allowing it to switch between different cellular providers and thus the best available network. Where a track-side or depot Wi-Fi network is present the Moovbox will use this as a preferred backhaul alternative at speeds up to 54Mbps."
Icomera is a Swedish company which explains why I've occasionally had Swedish language adverts pushed to me when using the service. The ground station is in Sweden with a Swedish IP address.
To make this post a little more interesting I decided to test the on board WiFi against the O2 sim in my phone. I did this on a 2 hour 20 minute journey between Lincoln and London Kings Cross (the train was late – it shouldn't take more than 2 hours 5 mins 🙂 ). After Newark I did continuous testing using speedtest.net on both laptop WiFi and phone sim.
Although I tried to start each test at the same time in reality one normally took longer than the other so the finishing times do not coincide. I managed 88 cellular tests but only 55 using the WiFi which suggests that the WiFi tests took longer to perform.
This is borne out from the average results which were better for O2 than for the WiFi.
| | | | |
| --- | --- | --- | --- |
| | Average Download Speed bps | Average Upload Speed bps | Average Latencys ms |
| O2 mobile data | 2002 | 872 | 203 |
| On train WiFi | 985 | 618 | 231 |
The recording process was not perfect. We have to remember that I was hurtling through the English autumnal countryside at 125mph for much of the time (must have been less than that seeing the train was late) and there were times when the speed test stalled due to no connectivity and continued when it picked up a signal once again.
It felt like it did this more often for the O2 sim which you could understand losing connectivity in parts of the countryside whereas the satellite should have had a continuous connection. That said the fact that I was able to perform more speed tests with the former is telling. Of course it may have been down to more people on the train using the WiFi than their cellular connection but I can only report my own experiences. The numbers speak for themselves.
| | | |
| --- | --- | --- |
| | Cellular | WiFi |
| Fastest Download (bps) | 6176 | 3930 |
| Fastest Upload (bps) | 3233 | 1580 |
Although I do use the on train WiFi I have on occasion resorted to the cellular connection in my laptop (O2 in phone, Vodafone in laptop) and whilst this test used O2 not Voda I suspect what it is telling me is that it makes more sense not to bother with the onboard WiFi and just stick to the mobile networks.
It also makes me wonder what sort of cellular connectivity they have on the Moovbox M800. I guess must have a lot of people hooked to it on that train!?  They must use some sims because the latency seems low for a satellite only connection. In fact thinking about it I wonder if they used a satellite at all on my trip?
Icomera looks like it has established a nice little niche in transport based connectivity but I suspect that passenger expectations in the UK have overtaken what Eastcoast is providing.
That's all for now – click on the header image for a full size graphical representation of the test results. You will see that there are many more "good" results for the cellular connection than the WiFi. Also it's no surprise that the best cellular readings come when the train is in or near a station.