At Timico we now have a champion fairy cake maker to add to the long list of other cake making honours within the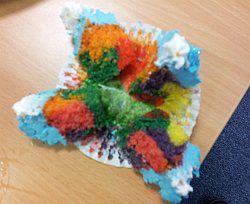 company.
This time the winner is engineer Stephen Burdock who spends his days sorting out  customer problems and clearly must spend some of his evenings practising his baking skills.
As usual the standard of entries was top notch and the produce is available to purchase at £1 each – all moneys to charity.
Thanks to the judges, including Powernet's marketing manager John Heritage and to all the other entrants who put so much effort into the competition.
The picture on the right is a cross section of the winning cake before being demolished by the judges. It's nice to see blokes winning these competitions:)