B4RN Broadband is award winner
B4RN broadband has just been announced as winner of the Internet Hero at the Internet Service Providers Association annual Awards bash. They were pretty clear winners in the vote that involved all of the ISPA council (moi included).
I'm not going to dwell on the other candidates or on the Internet villain. It is quite fair that the attention is all focussed on B4RN. B4RN has featured on the blog before. It is literally a ground breaking project.
B4RN is aiming to light up 1,500 or so properties across the 8 parish areas in the Lancashire/Cumbria borders at a cost £1.86M. That's roughly over £1,200 per home/business. They are doing it with a combination of hard cash raised from investors and potential customers and "effort". The "effort" is payment in kind – much of the total cost of the project is down to civil engineering works – digging the trenches in which the fibre is laid.
The 1,500 properties will need over 256km of fibre – that's roughly £1,200 per property connected and just over £7 per metre. A very significant chunk of the cost of the project is going to be paid for in kind so the overall cost per property/per metre will come down from this. B4RN has enough cash to initially light up the core of the network – that's 40,000 km through 8 parishes.
If you take a look at the Openreach website you can see their regulated tariff. For laying fibre the costs range between £25 a metre and £140 a metre.  Believe me this is not a "have a go at BT" post. BT has to gear for scale and is not used to having to gear for low cost.
These numbers suggest there is a clear need for competition in the local loop/Openreach space. The Openreach position will be that the market isn't big enough for two players.
The people that got B4RN going are real heroes. The biggest problem that the UK has is that there aren't enough of these heroes to go around. It's not just guts you need it's know how and it's not just know how locally on the ground. It's know how right the way up through the ranks of the civil service and up to government ministerial level.
BT will be whispering in the minister's ear "do you really want to take the risk with critical national infrastructure by letting just anyone get involved". That's what's happened with the BDUK rollout of funding for rural NGA broadband – we are left with BT and possibly Fujitsu though only in a few regions (that's my understanding anyway).
I don't have the right answers here. Hopefully B4RN's winning of the ISPA Internet Hero award will give someone food for thought.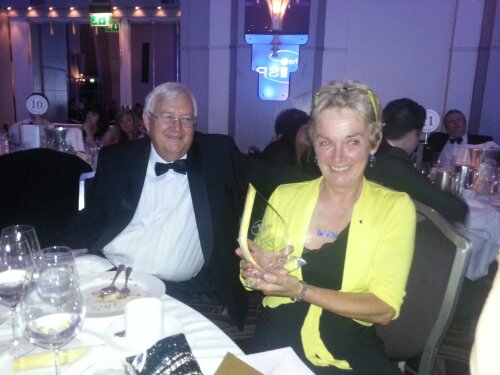 Photo – Barry Forde and Chris Conder of B4RN proudly show off their award.