I met Christopher Day on Twitter. I've no idea when.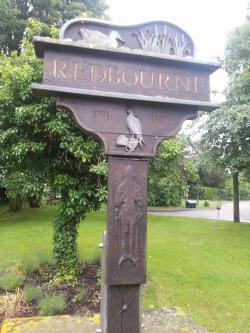 People follow you. You follow people. You start to connect. Connect often enough you begin to notice and engage with them which is what I've done with Christopher. His Twitter name is @themanorhousebb.
I've met him a couple of times before today, once at LincUpLive and then again at LincsTweetMeet. During some online conversation I mentioned that my favourite vegetable is the pea.  Christopher grows peas and he invited me to see some pea picking in action.
Hreodburna, which in Old English means reedy burn, is as you may know, the historical name for  Redbourne in Lincolnshire. Redbourne is your idyllic English village and was to me only previously known for its pub.  The Red Lion is a wonderful  17th Century coaching Inn and a stopping off point for Lincoln
RFC on the way back from away matches in the North of the county.
The car park of the Red Lion on this occasion was the place that I had arranged to meet Christopher to go and see some vining action.
What I would never have noticed in my rugby playing days was the fact that attached to the Red Lion is a fire station containing an original horse drawn fire engine (click on the header photo for a better view of the fire station). Made in 1831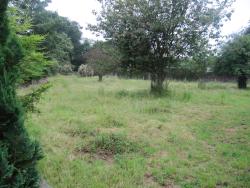 by Hadley, Simpkin and Lott of London the engine is manually operated with bars on either side that were raised and lowered to pump water.
The sign in the fire station window informs the enquiring mind:  "The rural disturbances of 1830-1 provoked at least 28 cases of Arson in Lincolnshire. The owner of the Redbourne Estate, the Duke of St Albans certainly owned an engine by 1834 and it is reasonable to presume that this is the same engine, bought to protect his property. There was no county fire service in Lincolnshire until 1948."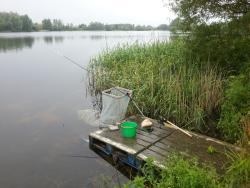 The horse for the fire engine lived in a paddock at the back of the Inn and the first job the firemen  had before attending an incident was to catch it.
Things have moved on from those days. We moved on to see the pea harvest which is going to be the subject of another post. In the meantime Christopher was kind enough to show me around his farm which includes some carp fishing lakes. I offer here some photos of one of the lakes – a hugely relaxing place to spend a day. Note the bait set up. Click on the thumbnail photo for a close up shot of some

of the bait – not for the faint of heart.
Alternatively watch the short video (18 years and over only). Amazing where you can get using Twitter isn't it?