I tried to buy Olympic football tickets this morning.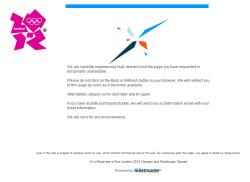 I want  to take one of my kids because he is a big fan. You know how it works.
I went onto the ticketing website at 5.30am to sign in and make sure all was well in preparation for 11am when the tickets went on sale. All was not well. When looking at my "confirmed tickets" I got the screen shown inset on the right. "We are currently experiencing high demand and the page you have requested is temporarily unavailable". Unavailable my foot – at 5.30am!
On previous occasions the message has said that the info is not available "whilst seat allocation is taking place". This was the message for the last few weeks. Gimme a break. How can it take so long to allocate seating using an electronic system. It can almost certainly be done at the flick of a switch.
Back to today.  Just before 11am I signed in