Another interesting photographic weekend with the Galaxy S3. I was in Liverpool for a family party, staying at the Crowne Plaza on the Waterfront. Lots of photos – 3.3GB worth – 1,134 files. The hotel had a free option on its wifi, notionally for email & light browsing. I didn't do any speed testing but when I got home, 150 or so of the pics had already been uploaded to Google+ using the free wifi and instant uploader.
This has to be the way to do it. You find your pics automatically backed up without thinking, as long as you chose the "wifi only" setting on the phone. The rest of the pics were taken off the phone before they had a chance to upload – I'll have to adjust my "transfer policy" to give them time to upload.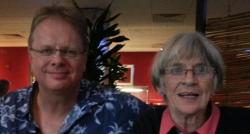 The inset photo is of me and me dear old Mam on Friday night at a private Davies dinner in the hotel. The header photo is the view from the private room at the SoHo House club on Greek Street in London Town. I was there for a Dell Vantage Club event where the topic of conversation was BYOD. I have to say I am becoming increasingly impressed with these Dell events. Dell is restricting the Vantage Club to 350 CIO/CTO types and it is a great forum for networking with others in the industry. I even bumped into a Timico customer there – great stuff.
PS I'm going to also have to start a policy of filtering the photos I keep on the laptop and offloading the rest to an external hard drive where they will provably never again see the light of day.