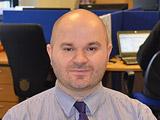 Meet John Milner, crazy genius inventor. He is one of a few. A bit like Nat Morris with his Twitter based dog feeder. You've met John before on this blog actually should you care to look.
Today John brings you Milner's Moisture Matic. Arduino powered with a recycled power brick the Milner Moisture Matic puts a 5V field between two bolts buried in the soil of a plant pot. The resistance is measured between the two bolts. The more moist the soil the lower the resistance. When resistance hits a threshold, ie when the current hits a certain low point,  it tells the system that more water is required.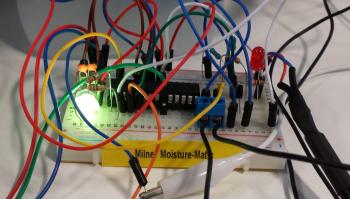 A 10bit sensor is converted to 8bit for the processor to read. A 3 way LED tells us the state of the soil – green is good, amber is ok and red says it needs water at which point a pump kicks in for 7 seconds.
Separate sensors tell us the level of water in the reservoir (reused milk jug) and whether there is water in the outside pot. The pump will only work if the moisture sensor and the pot water sensor indicate dryness.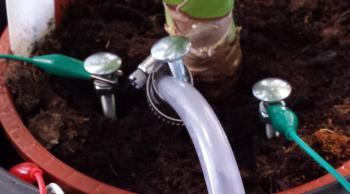 The Arduino processor comes with pre built twitter elements so we could extend the functionality to log reports on twitter – frequency of watering, whether the reservoir needs topping up etc.
Check out the images clicking either gets you a larger image or a different view.