Visited Hampton Court today. It wasn't originally on the agenda but we stayed at a pub last night called The Kings Arms – situated just outside the back gate to Ennery 8'th old gaff. He probably used to nip there for a swift one before each marriage – just for a bit of Dutch courage, know what I mean?
Anyway after an early breakfast we still had time before the Convergence Summit South opened for business so Fraser Anderson and I went for a stroll around the maze at Hampton Court. Around the outside of the maze – it was not yet open for business.
Moving on through the gardens we found that someone had left the door open to the bit you have to pay to get in to! 🙂 We thought nobody would really mind if we nipped in for a bit of a look around so we did – some photos below. It was easy to imagine having the run of the place with few people around other than the odd gardener doing his stuff. Of course in Ennery's day there would have been hundreds of people milling around so we probably had the best of it.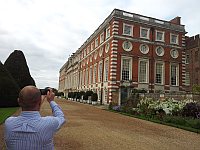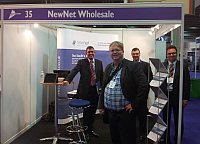 You may have noticed I cheekily slipped in a picture that has nothing to do with Hampton Court. It's actually of the NewNet Wholesale stand at the Convergence Summit South exhibition. NewNet is a Timico Group company and is launching it's brand new white label wholesale portal.
The longer term plan is for NewNet to be able to support all the Timico Group technologies and services through this portal giving channel partners a single point of contact for all connectivity sales. That's the sales pitch over. They are a very genuine bunch of lads. If you are looking for a partner for your connectivity needs you should try them 🙂