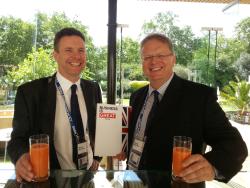 I was very privileged to be invited to the Global Business Summit at Lancaster House in London on Friday. This was a showcase of the best of British Technology Businesses and the guest list was a mix of UK and overseas business leaders. It was one of a series of sessions promoting different UK market sectors and ours was the last one. Being right next to Clarence House security was about as tight as it can get. The cops here always carry guns. I had forgotten my passport at home but fortunately my driving license did the job for photo ID.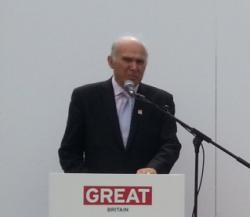 We were treated to a keynote speech by Vince Cable, UK government cabinet minister with responsibility for business and by CEO of Facebook EMEA, Joanna Shields. I won't comment on the specific of the speeches by either of these two or by any of the other speakers in the morning and afternoon. They were all positive, upbeat messages from people involved in the technology industries of which we should be proud.
It must be said that we do know how to put on great events in this country. Obviously there are the Olympics which on the face of it are a huge success. This was very much a networking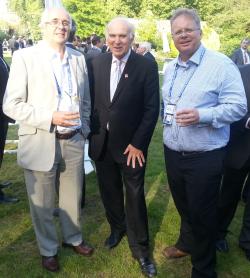 event. As well as showcasing technology they were showcasing the best in British food and drink. We did our very best to sample it all – good manners and all that.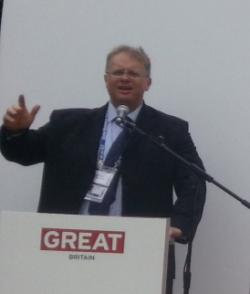 The food and drink was sponsored by the suppliers, I'm told. I'll name a few: Bibendum, Nyetimber champagne (I realise we aren't supposed to call it champagne but you may have noticed I've been feeling rebellious of late and it is just as good as the French stuff), Chapel Down and Primrose Hill wines – great I can recommend them.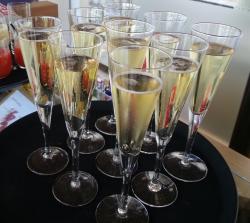 The food was terrific – little bowls for lunch so that we could circulate and chat. Crab, braised beef, quail spring to mind. The canapes at the cocktail party after the talks were also very tasty – steak and chips, seared tuna, pea puree, amongst others. We had them with gin and tonics made with Tanqueray and Sipsmith gin and a cocktail called "English Country Garden" whose constituents I don't totally recall (perhaps for obvious reasons) but which included Chase vodka and some kind of elderflower juice. I've included a short video of the Bibendum staff mixing the cocktail.
We aren't supposed to take photos in "Royal residences" but everyone was doing so and the bar staff even took some of the shots for us. Also there were loads of official photographers clicking and recording away. No prizes but can anyone guess what the tapestry is behind the cameraman in the photo inset right. It's quite famous. The artist's name will do as an alternative.
Also click on the photo of Vince speaking to see some of the other guests – names? Finally who is in the photo of the panel? – click on it to enlarge and see more. As I said no prizes this time as I'm on holiday but lets see if anyone comes up with right answers.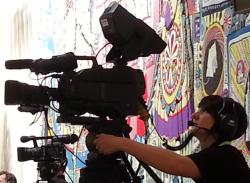 See ya…