I have 39 versions of the song "April in Paris" in my digital music library. The earliest recording is an Artie Shaw track from 1940 and the most recent is by Wynton Marsalis from his 1987 "Standards, Volume One" release, with many seminal versions threading in-between, delivered by a staggering array of artists that range from Frank Sinatra to Ella Fitzgerald to Nirvana (OK, that isn't true…just checking wakefulness out there)…er, Blossom Dearie. Of course, considering "April in Paris"'s status as a 20th Century classic and the size of my jazz collection, I shouldn't be surprised that I have 39 versions of the song, and yet seeing them all before me on my monitor (the result of an iTunes search) is really just a couple of steps shy of astonishing.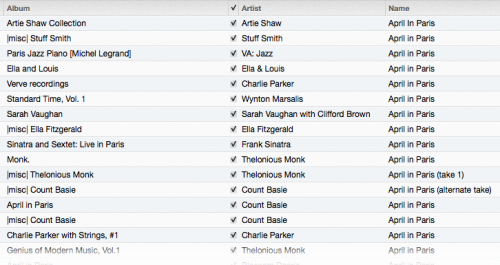 If 14+ years ago someone had asked me when I first moved to Paris in 1999 (August — not April) "How many versions of "April in Paris" do you have in your music collection?", I could not have answered the question with any kind of accuracy or authority. Not without taking hours to thumb through my 2000+ CDs with a notepad and pen at hand, anyway.
I never knew the charm of spring
I never met it face to face
I never new my heart could sing
I never missed a warm embrace
Today, though, having recently completed the years-long task of digitizing those CDs (begun in '03 with the purchase of my first iPod, and ramped up in '05 as the result of a "Eureka!" moment), not only am I able to definitively answer the question in just seconds, but I can also add that six of those recordings are by Thelonious Monk, the longest clocks in at 8:39 (Ella Fitzgerald and Oscar Peterson, recorded in 1975), and that the last one added hit my digital music library on 13-June-2013 (a gorgeous recording by Michel Legrand from his 1959 album, "Paris Jazz Piano"). And, of course, I can also tell anyone curious that all 39 versions of "April in Paris" I have to offer can be enjoyed in just two hours and 55 minutes.
Till April in Paris, chestnuts in blossom
Holiday tables under the trees
April in Paris, this is a feeling
That no one can ever reprise
Databases. Now there is a word with the ability to both excite and terrify. And whereas once this was a term and concept that was pretty much relegated to the more computer-bent among us, today in the First World it is the rare one among us who does not have something of a regular relationship with at least one database, if not dozens or hundreds. And our digital media libraries may well be the best example of that fact, as not only do so many of us now load the database — or, more precisely, the databases — that lie at the root of these libraries, but even the least technically inclined find occasion to manipulate the data therein. Editing media file metadata, resetting playcounts, tweaking rating scales, all in service to facilitating the use of the vast array of filtering tools that can be employed for the purpose of creating virtual collections of songs that match query input criteria.
I never knew the charm of spring
I never met it face to face
I never new my heart could sing
I never missed a warm embrace
So excuse me if I feel a little melancholy today, this last day of April 2014 (yes, I know this won't publish until the first day of May, a date for which there are no correlating song titles…at least not in my digital music library). Perhaps it is the mood of the song more than anything else that has me pondering and perhaps even longing (just a little bit) for a simpler time, but I cannot help thinking that enjoying my music collection was all the more sweet when the immense effort necessary to listen to all 39 versions I have of "April in Paris" in the same sitting would've precluded me from ever thinking of doing so.
Till April in Paris
Whom can I run to
What have you done to my heart?
Related posts: