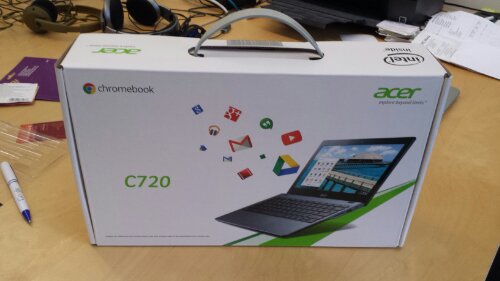 Picked up my Acer C720 WiFi Chromebook. Granite Gray not Ash as foretold in this previous post but hey. Might never know what colour ash was 🙂 Also it's a shame that international language seems to have dumbed down to the lowest common denominator of Americun English. Ah well.
Back at the office I thought I'd bang out some words of wisdom for you before user testing the product. I bought the Chromebook from PC World Business. One does this ostensibly when one requires a VAT receipt from PC World, dont ya know.
Whilst hanging around waiting for the PC World Business system to boot up I got into conversation and casually asked whether there were any discount codes available. The "sales advisor" (I imagine that's how it's speld) tapped his keyboard and hey presto a £20 discount appeared.
So my Acer C720 WiFi Chromebook Granite Gray was not £199.99. It was £149.99 plus VAT which I'm sure your quick thinking minds will have totted up to £179.99 give or take a bit of rounding. Result eh? 🙂
I took a look at other Chromebooks on sale whilst hanging around. They were pretty much identical to the Acer. Small differences in build quality perhaps but these are all commodity items. It's like buying bags of cement, or tins of baked beans.
Now what is interesting is I happen to know the discounts are not available from PC World's Retail arm. This is because PC World Retail buys its stuff from Dixons Retail who in turn get it from a UK Distributor who buys his from the European Disti who gets it from the manufacturer. I also happen to know (it's spring – a little bird told me) the manufacturer's price is £90 so there is plenty of margin in there if you can buy direct from the manufacturer but sod all if you have to slice it 4 ways.
Apparently most of the Samsung products bring good margins – it's only Apple who are greedy. What do I care? I got an Acer C720 Chromebook for £179.99.
More on this as it happens.
Read other posts on Chromebook – there are loads:
Just bought an Acer Chromebook Ash – review to follow.
Samsung Chromebook crash fix and print drivers – who needs em?
Footnote to Samsung Chromebook Free Galaxy Phone offer
Samsung Chromebook offer not very customer friendly
or search chromebook for lots of useful articles