Had a day or two to play with the wave.  Some of my Facebook friends have already commented that it is no good without others to communicate with.  At this time I have two friends in my wave contacts list :Luc from Google who invited me and Cyberdoyle.
This fits into the category of sad git with no friends.  However Cyberdoyle, who is the most advanced farmer's wife (for I believe such is she) in the world when it comes to the internet, is showing me the way.  Cyberdoyle is hugely knowledgeable when it comes to Rural Broadband (or lack of) and the Digital Divide.  Martha Lane Fox should recruit her.
Cyberdoyle, ok Chris, started a wave and showed me the way.  Pic below: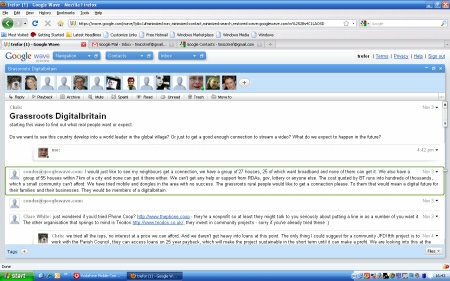 There are currently 14 people catching the wave, none of who I know other than Chris. The resolution of the jpeg doesn't do it justice. However what you are seeing is a multimedia collaboration work in action. This could be a cross departmental business tool, a group of friends planning a party or something online usable by any community anywhere (except where you can't get broadband!)
This is impressive and I'll keep you posted on progress with the Grassroots Digitalbritain wave which you might or might not have gleaned is all about a community of people trying to get the internet into their lives.  I get this image of an inner city council estate where the residents are trying to make life better by raising money for a community centre. There is no difference between them and rural communities wanting to access the internet.
Anyway Google Wave – so far so good. Thanks Luc for inviting me and who needs lots of friends when you have Cyberdoyle.