Just sat in one of our ongoing planning sessions to calculate our bandwidth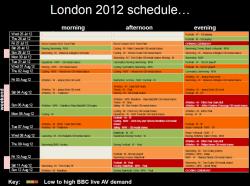 needs during the London 2012 Olympics. It's a complicated call and we will be telling all nearer the time.
One of the data sources we are using is the BBC's own estimates of iPlayer traffic growth. The inset photo shows when the BBC is expecting heavy iPlayer traffic loads and is based on the sport/competitor mix for any given session.
The colour coding scheme doesn't tell us how much traffic is expected for each event but the Beeb is planning for a peak of 1Terabit per second.
The capacity planning and quality management  for the Olympics is not totally straightforward because there are factors involved outside the control of any individual ISP. Load on the iPlayer servers is one and the traffic at individual exchanges is another. As an industry we are going to have to be nimble to make sure that our customers' experience is a good one.
More as I get it…