I kinda like winding down on a Friday afternoon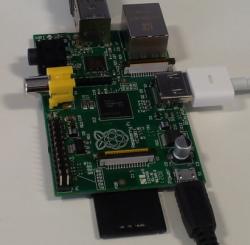 although this week has been so hectic it feels as if I need a couple of extra days to squeeze it all in.
Fridays are usually when I put up the trefor.net megaprize competition. It isn't too late to have one this week but first I need to talk about Raspberry Pi, for yes, I have been playing with one.
The amazing thing about Raspberry Pi is that it just works out of the box. They have done a great job. The processor is a bit slower than you are used to with graphics but hey – it's twenty five quid for petes sake.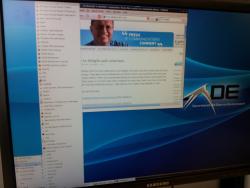 The pics in this post say it all really.
The first is just the PCB. It's almost like a mobile phone without the screen and battery. Then I have a few screens shots with the obligatory picture of the blog in it to show the browser in action.
Second screenshot zooms in to show the menu options and then I've shown the development environment in a window.
You can be up and running straight away although you will need to learn some basic programming languages, which is the whole point of the device.
The last photo shows the desktop setup wit ha Raspberry Pi plugged in to an Ethernet cable. Obviously there is only one video card so only one of the screens are used.
It might almost be conceivable to use two processor cards to have two screens. I can certainly see Raspberry Pi being used in many applications around the home and office.
Obviously the cables would have to be tidied up a bit for every day use and I expect Health and Safety would insist on a box for the processor card.
The video at the bottom of this post shows a screensaver in action. Thanks to Gareth Bryan for letting me have a play. I didn't get in particularly early with my registration.