We all need our private space. This true in our virtual lives as much as in the touchy-feely-smelly real world that we once inhabited.  In those days man could retire to his shed if he felt the need for a bit of time to himself. He would only let you in if you were a pal.
There are no sheds online.  What do we do about privacy when using the internet? The fact that Google seems to know what I've been up to is a concern.  Do we all sign up with proxy services?  The proxy service provider will still know what you are up to.  Switching on "private browsing" seems a bit of a faff and all that does is prevent PC from storing usage data.
A reader (thanks HmmmUK) just Tweeted me a link to the Google Opt out page:
"Opt out of customised Google Display Network ads
Opt out if you prefer ads not to be based on interests and demographics. When you opt out, Google disables this cookie and no longer associates interest and demographic categories with your browser."
I thought "great, the answer to the problem" and proceeded to that page to opt out. Then I paused. The purpose of the Opt out is to add an element of privacy to your online experience. Do I want to be this anonymous?
Would I prefer to be bombarded with random ads (assuming that there is no option to remove the ads completely for that is the business model) or with ads that are more relevant to my interest?
The truth is I really don't know. I want to be a private person but I also want to be part of the internet revolution; take advantage of the benefits this new world brings/will bring. Part of being able to do this is to accept that things ain't what they used to be.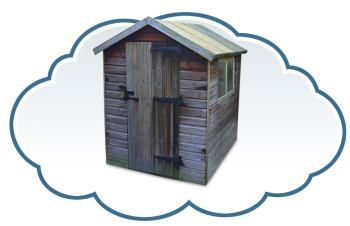 Perhaps what we all need is our own personal firewall. This firewall would allow you to personalise every aspect of your web life, at the click of a button. It would set up your social networking privacy preferences and allow you to see at a glance what people can see about you. You would selectively be able to opt in or out of services, use of cookies, receiving email and messages from specific people or whole blocks of people (or the whole world). You would even be able to choose what type of ads you could see.
I'm calling this the OGS, or the Online Garden Shed. You heard it first on trefor.net…
PS I have extensively researched this subject – Googling "Online Garden Shed" gives just under 36 million results. Without exception all of these results (on the first page at least and who looks beyond there) are for,wait for it, garden sheds. I am clearly onto something here. You do wonder how on earth vendors of garden sheds climb up the Google rankings to become noticeable online. The only way is to pay Google and I can't believe there is enough cash in garden sheds to support big adwords investments. Maybe there are a few global operators who have cornered the market and have the right scale to support the ad budget needed. Worrying innit?