I note from Twitter this morning that Google is blocking some emails from Microsoft Office365  to Gmail recipients as spam.
The message reads: [157.56.116.103 1] Our system has detected an unusual rate of unsolicited mail originating from your IP address 
I note also that the ip address is ascribed to AS8075 (ours is AS8607  fwiw – pretty contemporary) otherwise known as Microsoft Corporation. This address has been identified in the past as a source of spam – check out Project Honeypot. That link also displays some example mail messages that are clearly spam – "loans available", "Attention ATM card beneficiary" and so on.
I sense a wry smile as you read this. Global commercial internet wars! "Google tries to shut down Microsoft email". I suspect though that there will be no malice aforethought here. Managing mail platforms is a 24×7 job. As an email service provider you can't afford for your server IP addresses to be blacklisted because of some customer generating spam. It might not even be that customer's fault. It's almost certainly an infected PC.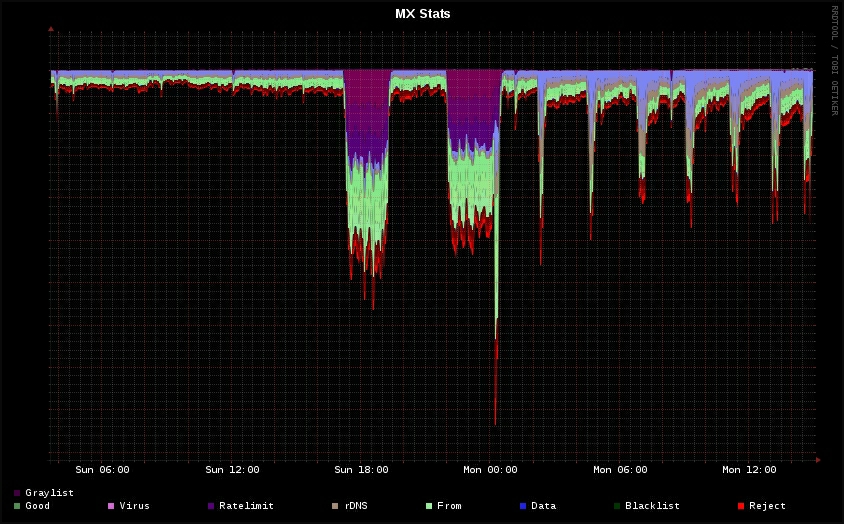 Microsoft will have a huge team of people managing their email platform. That spam was identified is also a testament to the Google anti spam capability which is widely considered to be the best in the game.
The pic inset is an old screenshot depicting incoming spam attacks – the legitimate mail has had to be amplified x10 so that you can actually see it. Fortunately the vast majority of the spam never makes it to the desktop.
IP addresses blacklisted as a source of spam don't usually stay on the blacklist for very long – 24 hours maybe but it can certainly be a nuisance for those trying to send or waiting to receive emails.
I don't think email has a long term future in any case or at least it is going to have niche applications (spam etc :)), but lets not get into a lengthy debate.
Ciao