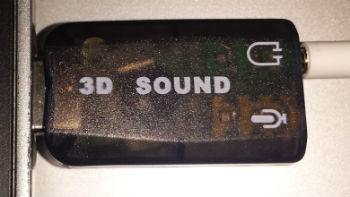 Picked up this cracking little USB sound card off eBay for less than two quid, including postage and packaging. It's for my old Dell laptop. I knocked it off the arm of the settee a year or so back. It fell on the floor and rammed the headphone socket right inside the machine. Ah well.
I've lived without sound since then but whilst I rarely use the Dell any it has become Mrs Davies' machine since hers played up and it seems reasonable for her to have sound, especially for the price.
I've only tested it on some old vid on YouTube and it did sound tinny but that might well have been down to my choice of content rather than the actual sound quality. For two quid who is going to complain anyway.
That's all. Two quid!!?? I'm going to plug in a set of speakers for her so that she can listen to her favourite radio programmes.
Tbh she rarely uses a laptop anymore, It's all iPad. I'd tell you what make the USB thing is but I can't tell from the packaging. It looks pretty generic. Made in China, fair play.