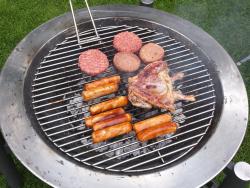 It's traditional for me to start wearing shorts as soon as the clocks go forward in the spring. The British summer is not very long and you have to cram in as many summery activities as you can in a short space of time. The clocks don't go back until next weekend but today is such a nice sunny one that I have donned said shorts.
I have a regular routine when I put a pair of shorts on for the first time in the year and that is the "now where did I put the shorts away for winter" routine. There's also the "hmm do I actually have any shorts left from last year" thought that goes through my head. Summer does inflict wear and tear on a pair of shorts, especially when tightening waistbands are involved. The consequence of a barbeque culture.
Fortunately over the last couple of years I've been able to pull in 4 notches on the belt so I'm working my way back through some older pairs of shorts.  Not quite at the lissome "take a look at my sixpack" stage yet which will be the point at which I treat myself to some new and cool gear. Don't expect anything soon:)
If this weather continues into next week I'm also thinking of bringing the bbq out of deep hibernation. It's a Weber 3 jet gas job. There are some purists who won't touch gas but in my experience it's far more reliable and the food tastes the same. Less likely to be burnt if anything. By havign a gas bbq we also have more meals cooked outside. Anne likes to know when the kids are going to be fed and the process of lighting a charcoal bbq is very hit and miss where timing is concerned.
Ciao Amigo!
Read a post with a picture of a fire pit in it here.