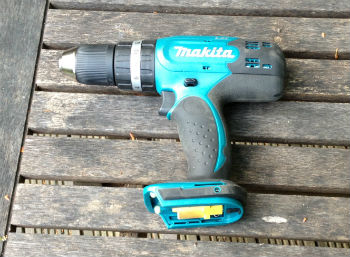 I bought a drill. No it's not it's a screwdriver. Actually it's both. It's a Makita cordless job. My old Black & Decker cordless screwdriver I've had for years won't charge and therefore won't drive screws. I only used the B&D a few times. Ah well.
I needed it because the playhouse is being moved, if it is the will of a superior being, from it's current position astride the basketball court to the compost heap which is now no longer a compost heap.
The basketball court isn't currently a basketball court. It's a patio base for the playhouse but it will be perfectly good as a basketball court. It has been pointed out to me that some branches from the pear tree in the corner overhang the "court" and "can we chop them off?" We shall have to wait and see. You don't go lopping branches off a pear tree just like that, though it's never been much good as a pear tree and every year the leaves develop brown spots. There is a fix for this involving some sort of insect repelling bands around the trunk but I've never bothered implementing it. The pears were never any good anyway and there's a Tesco just down the road.
In fact Tesco are opening a new whizz bang all singing all dancing superstore in a couple of weeks and I've been invited to the preview night. It's supposed to be packed with the latest retail tech which I'm hoping will make for some good blog content.
I'm drifting off the subject here which is meant to be my new cordless drill/screwdriver.
Kid3, who with a B at GCSE in Resistant Materials (woodwork) came with me to B&Q as my qualified advisor. He was supposed to be revising for his AS levels but the lure of the tool over rode the exam pressure. A bloke called Reg helped me out. He wasn't called Reg really but I can't remember his real name and Reg sounds appropriate for a highly experienced assistant in the tools section. Good job he was there really because he was able to explain the different types of screwdriver bits available. I didn't realise that there was such a thing as a posidrive. It's similar to the phillips cross head but different. Good job he was there because it turns out that all the screws in our playhouse are posidrive and not just simple cross heads. It would have taken me hours to get the job done.
We chose the best tool in stock or so I was advised by Reg. The Makita. It has to be said that the Makita does feel good in your hand. Chunky. Blokey. Solid stuff. It has a 1.5Ah Li-Ion Battery (gives me around 1 ½ hours of constant use says Reg), 2-Speed Variable & Reverse drive and employs a 13mm Keyless Chuck.
The Makita is something that every bloke should have. Even if screwing1 is something you don't do that often. It just feels good in the hand.
On this occasion the playhouse would have zero chance of a new life as the garden furniture store were it not for the power of the cordless screwdriver. There must have been forty screws to remove, many of which were long, deeply inserted and difficult to extract.
My mind drifts back to the silent movies of my childhood2 era where Buster Keaton would be dismantling a barn (for some reason) only to find it collapses around him whilst the Keystone Cops drive chaotically around the wreckage.
I had to abandon the dismantling yesterday in favour of a family trip to Pizza Express (good old Tesco vouchers). Progress had very much slowed as whoever assembled the darn playhouse in the first place had used heavy nails at the base and I'm worried about wrecking the wood which is quite soft cheap rubbish really.
Anyway the roof is off and one of the side walls removed. The job will get finished today. At least the dismantling will. We will have to see how the reassembly goes not least because I probably need to do some more leveling work on the base. Don't want to rush these things.
Photos are courtesy of Anne's iPhone because I haven't got my SGS4 back from the menders yet.
The Weekend section of this blog feels as if it could do with a DIY section. Only prob is I don't want to do anything that encourages me to do more DIY, even though I do now have a spanking new cordless screwdriver 🙂
Other posts relating to the bottom of the garden:
See the site that the shed is moving to here with video coverage of the wood store
Playhouse viewed from upstairs landing window
Fire fire – woodstore the sequel
Also if I were to check buy a new drill again I would probably check out some guides like the ones from Healthy Handyman first. Definitely gives some insight into the drill buying world.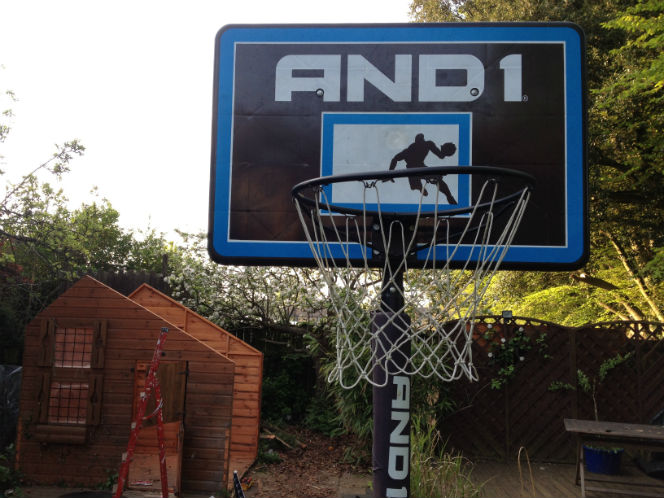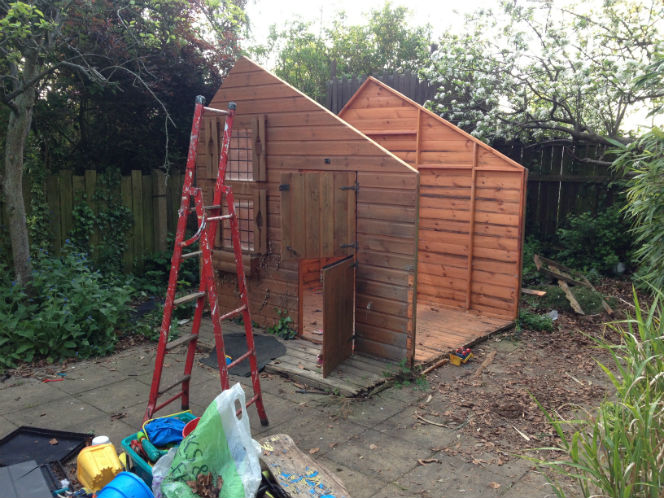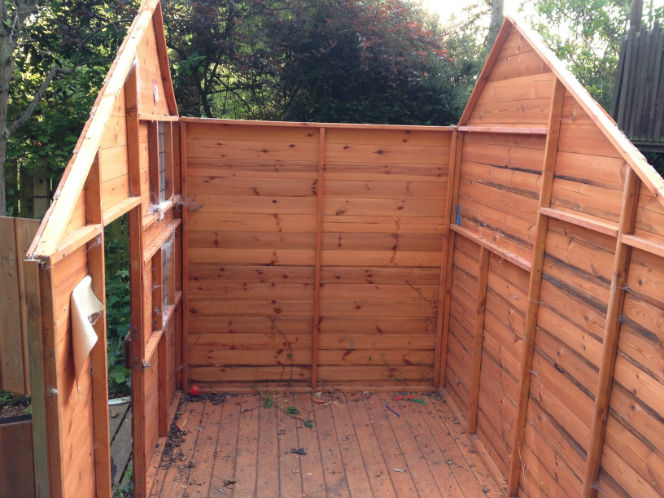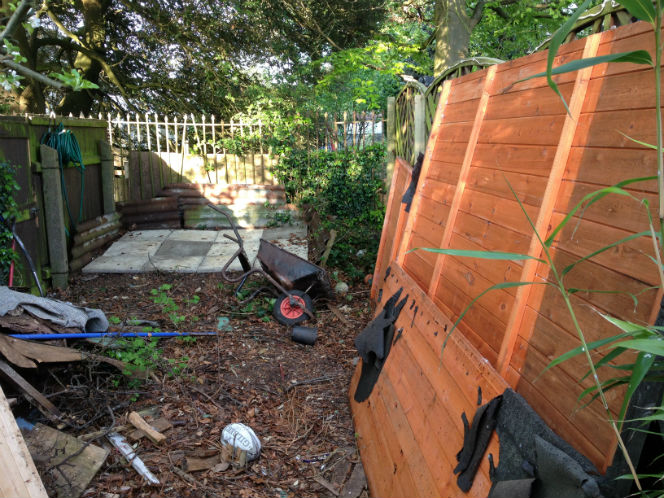 1 fnaa fnaa
2 I'm not that old