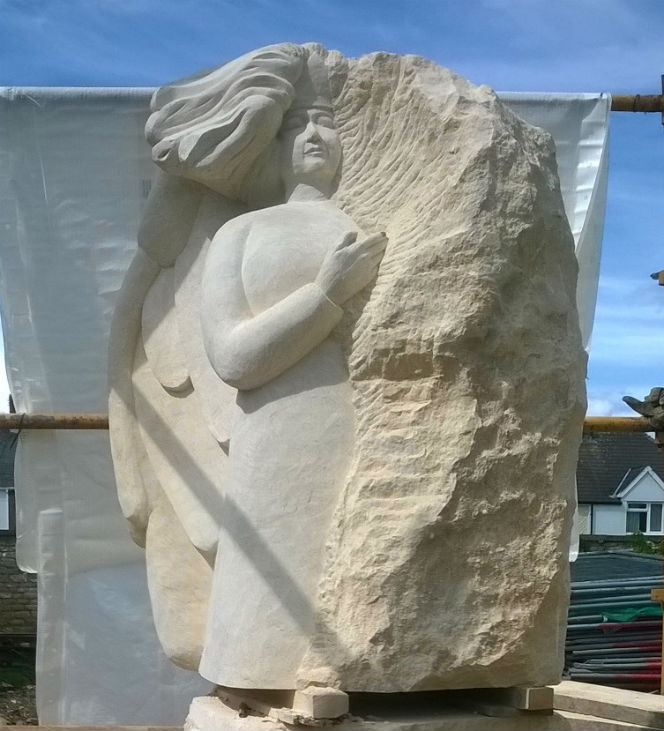 We have been following the progress of the carving of the new Eleanor Cross for Lincoln by sculptor Alan Ward. The main body of this historic new monument is now almost complete and Alan will shortly be beginning work on the slate wing and seating area around the base..
You can see that Eleanor is emerging from the stone. In my mind this is analogous to her re-emerging from oblivion after being destroyed by the Roundheads approximately 370 years ago.
It seems strange to thing that we have been covering this project on the blog with images and video whilst there will be no record of it being broken up all those years ago let alone of it being built, hundreds of years before that. I can almost feel the spectres of those involved walking around inspecting the statue making observations, or just quietly raising a ghostly eyebrow.
The original site of the Cross is lost although it is thought that it could be at the top of Cross O'Cliff Hill which stacks up when you think about it. The Church of St Katherines is at the bottom of this hill. The population of Lincoln at the time would only have been a couple of thousand people – a far cry from the busy town of today. The erection of the Cross would have been big news in those days. Let's hope we can make a similar impact in 2014.
We don't yet have a date for an official unveiling of the Lincoln Eleanor Cross but I certainly feel a party coming on. Perhaps recreate the drink that was on offer when the Cross was originally installed (I'll have to check on that one as it may be just stuff like mead which is orrible and won't play a part in any party of mine:) ). We certainly won't be dishing out any gruel.
Lincoln based readers may want to make a mental note to revisit trefor.net periodically to look out for any announcement or by all means leave a comment and I'll take that as a request to be notified. If you don't want to go on public record re this just say so in the comment and I'll keep it private. If you have previously commented this won't work as these comments are not moderated in advance.
Follow the progress of the Lincoln Eleanor Cross project in these posts:
Lincoln Eleanor Cross – the story continues
Eleanor Cross begins to emerge
Eleanor Cross – the carving starts
Eleanor Cross – choosing the stone
New Eleanor Cross for Lincoln – a project of national significance