Eurostar email fails Hotmail fraud detection test
I have a hotmail account. I don't use it much. It gets newsletters from the golf club and the occasional Eurostar communique. It was to check the timing of a forthcoming trip to gay Paree that I came across the Hotmail fraud detection test.
I like the idea of a fraud detection test. I'm sure all the large platforms have it. What I found funny was that a blue chip such as Eurostar might have failed it. You'd think it would have been noticed by their IT department, or at least someone would have brought it to their attention.
I looked at another email from Eurostar – thought a sample of one wasn't quite enough. The second email didn't have the fraud message but offered another nuance. It said "Email looking a bit odd? See it online".

 Odd I thought. Email looked fine. Also Hotmail is a cloud service – it's already online.  So I clicked on the link to see it online. Came up with this message.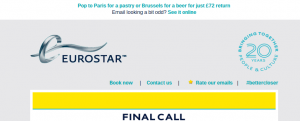 At this point I gave up. I was getting myself into an infinite loop.
From my sample of two I'd say that the Hotmail fraud detection test is failed by emails confirming financial transactions associated with journey bookings and the infinite loop gets it's knickers in a twist on adverts. Clearly these emails originate from different departments with different approaches to confusing customers:).
Personally I've never had a problem with Eurostar. The booking system is convenient, seats comfortable and you get a 4G connection whilst in the tunnel under the channel. I may however have to get myself a French SIM whilst in Paree as my EE 4G data roaming charges are a total ripoff. They totally fail the Trefor Davies fraud detection test.
Arriverderchi Royaume-Uni, bonjour Paris. Croissants, cafe, biere, steak frites, vin rouge Hotmail fraud detection test:)