Pebble smartwatch review – @Baskers compares 1st & 2nd gen
When Tref first approached me to write a guest blog post for Women in Tech week, to be honest I was kind of scratching my head a bit about what to write about.
Where to begin? What should I say? What to choose?
I've been reading all the other guest blog posts this week on here and just been in awe of what these women have achieved so far and what they are doing. I sort of feel like a bit of an interloper/false imposter syndrome being here. As I'm not in a tech company, I'm not a coder, developer, hacker and I don't work in Telecoms. I'm a Civil Servant in Westminster, responsible for the Department for Transport's Business Intelligence Systems.
So, not exactly the "sexy" part Women in Tech. But hey, we can't all have the sexy jobs. However, as a great believer in the Public Sector, I want to make sure that whenever decisions are made that ultimately impact the people of the UK, that these are made with the best damn Management Information (MI) that I can deliver to my colleagues. Whether that be internal to Business Partners, Boards etc or externally for DfT Publications, HM Treasury, Cabinet Office and Parliament.
There are a lot of challenges around that I'm currently facing:
around Data Migrations from legacy ERP systems to the new Shared Services ERP offerings
Connectivity between various systems via SFTP, VPN, Citrix Clients, CSV Interface Flatfiles (No API's yet)
how that interacts with my Business Intelligence System (SAP BPC for those of you that want to know),
how best to build upon the rich MI Data that I have and turn that into valuable information through Data Visualisations and Predictive Analytics.
Ultimately I want to make MI more open, transparent and accessible to my Department. That's my Finance/MI "tech" thing. That's what I'd like to make awesome over the next few years. But that's not why I'm here today.
The Pebble Time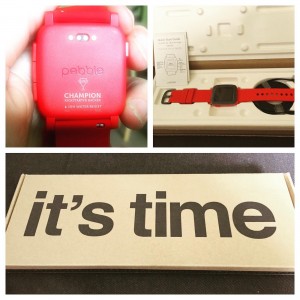 So, why am I here writing on Tref's blog today? Because I also have a weakness for all things shiny and tech, when I'm not dealing with Finance and BI Systems. Only the other week a new shiny arrived on my doorstep. The Pebble Time. Which is quite timely given Tref asking me to contribute to his blog this week. I was an original backer of the first Pebble smart watch back in 2012, when it finally arrived in 2013 (after a year of delays) I was ecstatic. It was the first proper smart watch that totally changed how I used my phone, and for the first time in years I'd started wearing a watch on my wrist again.
I've been wearing a smart watch for a good 2 and half years and in that time there's been a whole lot of new smart watches come onto the market as competitors to the Pebble and ultimately the Apple Watch. But I was still excited by the arrival of the new version of the Pebble.
Why? Because even though there are other smart watches out there I liked the simplicity of the Pebble. There are a whole slew of reviews out there telling you the pros and cons comparing against other watches and all the tech specs, but I'm here to tell you about my experience.
Likes
What I like about the Pebble Time (and it's earlier version the Pebble) was that no instructions were really needed:
Simplicity – it is simple to use with a good UI and a mature and stable OS. If I wanted complex, that's what my Phone/Tablet/Laptop is for (disclaimer here, am a total Apple fan with iPhone 6, iPad, MacBookPro, Timecapsule).
Price – But the Apple watch simply doesn't appeal to me (and certainly not at the price tag from near £300 upwards). As a Kickstarter backer, I got the Pebble Time for $159. Comparing that to the entry price for an Apple watch is simply a no brainer. It will retail at $200 (£180?), with pre-orders now open at GetPebble.com and due to ship July/August.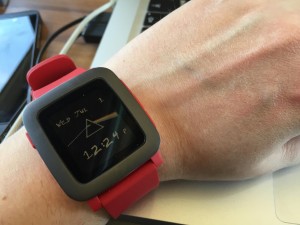 Battery Life – Apple Watch 1 day. Pebble 5-7 days. Again, no brainer. I find I tend to get around 3-5 days on my watch, but I am a fairly heavy user of the Pebble.
Volume Control – One of the things that bothered me with the 1st generation Pebble is that I couldn't control the volume of my music directly from my watch. Which is a bit of pain in the arse if you've not got a volume control on your headphones and then have to fish out your phone from your pocket to sort the volume out. They've sorted that out with the PebbleTime OS. It works a charm.
Apps – The platform has been around for 3 years + now, and the Apps for the Pebble OS are diverse and I think it's great that the watch will work with iOS, Android and Windows. Often when I was out cycling I'd have the Bike + App connected to my phone and was able to check out my speed and mileage at the flick of wrist instead of grappling with my phone whilst trying to not fall off of my bike.
Notifications – Oh these are fabulous and one of the main reasons why I love the Pebble. Being an App junkie (+300 on my iPhone at last count), I was being overloaded with notifications and always taking my phone out of my pocket to see what was popping up on my screen. The Pebble Time deals with this effortlessly, showing me what the Notification is and content. A quick glance to my wrist to see whether or not I need to deal with it right away or leave it to later. The phone stays in my pocket.
Dislikes
Watchstrap – I really don't like plastic watch straps. Really, really, don't like them. The Pebble Time comes as standard with the plastic strap, but on the upside, there's a quick release button on each strap at the back and you can exchange the strap for a normal standard 22mm band of your choosing. I had swapped the old Pebble watch strap with a standard leather one, so will probably do the same here when I get around to it. And there's also possibility of "smart straps" that can be used in conjunction with the Pebble Time App on the phone. I'm looking forward to seeing how that develops.
Screen lamination – I know this isn't an Apple Watch or other higher end smartwatch. It is an ePaper screen and I accept the limitations of that, but wish that I could choose how long to keep the backlight on. For me, it dims too quickly.
Charging Cable – it's a propriety charging cable. Pain in the arse if you lose/break it and have to wait for a replacement. I would like to see in the future more universal type of chargers for smart watches. Like most phones gadgets with micro USB ports.
Notifications – I don't like how when they pop up that they stay there. I would like them to disappear after a set period of time that I could set and for the watch to return back to the previous screen (either music or watchface for me). Perhaps this will could be new functionality the developers can bring to the App in the next update?
Comparing 1st Gen vs 2nd Gen
As I was an original backer, and have using my Pebble since 2013 I was looking forward to seeing how the 2nd gen version of the Pebble compared the original.
Size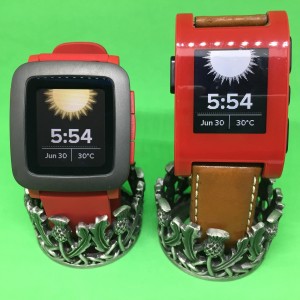 – Overall the PebbleTime is smaller than the original Pebble which is a much welcome feature to me. I have small wrists and did find the Pebble just that little bit too big for m. It's okay for blokes who tend to have larger wrists but for me it was an annoyance.
The smaller size of the Pebble Time just suits me perfectly, and is far more comfortable to wear.
Graphics & Animation – Obviously having a colour display is a BIG win. And opens up the possibilities of far more innovative watchface designs. Looking at the same watch face on both the 1st and 2nd Gen Pebble right away you can see the difference. I've totally fallen for the Pebble Time BIGTIME in that respect.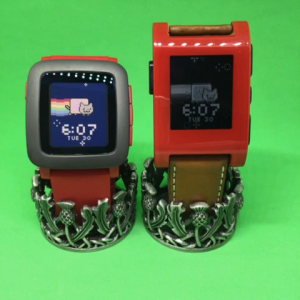 Having an ePaper colour screen just rocks. It's early days yet, and new watchscreens are just starting to get developed using colour and I can't wait to see what the developers come up with here. From what I've seen in the Pebble App store already it's looking very promising.
The animations on certain watchface Apps could be better, but it's still early days. One of my favourites has to by Nyan Cat. Check out the 1st Gen vs 2nd Gen here.
The App –The Pebble Time App has had a bit of an overhaul compared to the original Pebble App. The new watch can hold a lot more (1st gen was limited to 8 watchfaces only). I've been download loads of new Apps and watchfaces and have yet to fill the watch up.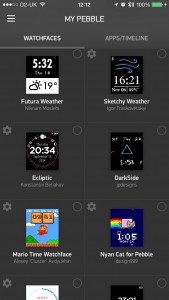 You can see that the screen is split between watch faces and Apps. Which makes it easier to filter through your selection and load up the correct one. Slightly more intuitive than before. And searching for new watchfaces and Apps is slightly better with the clearer category breakdown between each selection.
One thing I don't like, and it was the same for the original Pebble App is the performance. When you do make a selection from the Pebble App store it does seem to hang on the iPhone. Now I don't know if that is just iPhone specific or if it does the same on the Android and Windows App version.
I would like to see the performance of the App addressed when switching between the watchfaces/apps in the Pebble App store.
Weight – For me the by far the biggest feature that has made ALL the difference is weight. I'm not a fan of clunky heavy watches, and that was a bit of downside of other smartwatches.
Old Pebble & band = 38g
New Pebble & band = 45.5g
Apple Watch (lowest spec, and band weight) = 62g
Far lighter and less clunky that an lot of other offerings out there. Another killer feature for me.
Round up
I'm currently on a train from London up to Dundee (escaping the heatwave) and soon to run out of juice on the old laptop and disappear into relatively little connectivity so I'd better wrap up this post and get ready to disembark my train.
Owning a smart watch is a very personal thing. I've told you why I like my Pebble Time and why I'm sticking with it, but it's entirely down to your likes and preferences to which would be the best smart watch for you. I like the fact that the Pebble was completely crowd funded and was way ahead of the game before the big companies finally caught up. I want to stick around for now and see how the Pebble Time develops. But ultimately, if it doesn't offer what the consumer wants we'll will jump ship onto other brands so I'm keeping a close eye on this and as always the Apple Watch 2nd Gen.
About the Author: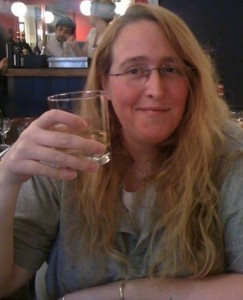 Sarah Baskerville aka Baskers is a Dundonian Civil Servant, lives and works around London. She is one of the organisers of UKGovcamp and Teacamp. Sarah is also a supporter of 300Seconds, Rewired State, Open Data and the Open Rights Group.
She also likes Doctor Who, blues music, wine and can often be found down the pub. Sarah intensely hates the colour pink.
Other posts in our women in tech week include:
Geeks do drink prosecco by Liz Fletcher
Network filter bypass solutions by Rhosyn Celyn
Network Automation by Leslie Parr
IX model defended by Valeria Rossi
Board level veteran sees progress by Lesley Hansen
Rural broadband solutions by Chris Conder
Experiences as a Siemens IT graduate by Zoe Redfern