Llandudno pier – all life is there dead on a wet Sunday night in July
It wasn't a particularly good ice cream but it was an appropriate use of my time and money. When on holiday it is important to indulge in relaxing holiday pastimes such as strolling on piers and licking ice creams.
This one had "raspberry blood" on it. Clearly marketing lingo pitched at customers of four foot height or less. I went for the raspberry blood. I opted out of the flake.
We enjoyed the sunshine whilst we could. The next day the weather returned to type and it chucked it down. That's Wales for you.
Llandudno pier has all the usual seaside attractions for what it's worth. Hook a duck, darts, slides, slot machines. The prizes were of course all total crap. We returned to the pier in the rain on the Sunday evening and even caught a glimpse of an entertainer twanging his electric guitar, banging out some old favourites (I imagine – wasn't allowed to step inside for a beer).
See Facebook album here taken on the fine Saturday afternoon. Photo of Llandudno pier on a wet Sunday evening in July below.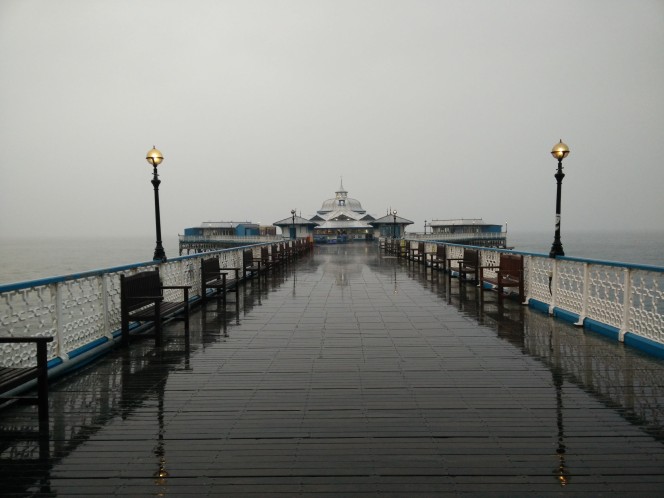 Back to the subject of ice creams I am quite fussy about this foodstuff. It all stems from growing up in the Isle of Man where they had the fantastic Manx Ices. Used to buy wafers from an ice cream van. They don't do them any more. Nowadays I think the company has morphed into Davisons but the product is equally good despite the lack of a wafer.
This post btw is another in the summer series along the lines of "where did I go on holiday". Expect many more and if you would like to post your own then just get in touch. Delay not. I'm in and out of the office until the end of the first week in September.