Today is the quarterly LINX meeting. LINX79. It's been going for a few years now – you can work out how long yourselves.
These are great meetings. You can learn more in two days here than in the rest of the quarter in between. LINX continues to grow. It in part reflects the growth of the internet but also the fact that LINX some time ago hit a critical mass and is a great place to peer if you provide connectivity to the internet.
LINX has 443 members. Last year the membership grew by 49. So far in 2012 they have had 86 new applications – that's double the run rate of 2011! Since LINX78 only 3 months ago the peak traffic has grown from 1.431Tbps to 1.538Tbps and connected capacity has grown from 5.958Tb to 6.14Tb. What that is saying that the traffic is continuing to grow over and above the huge peaks we were seeing during the Olympics which themselves drove a significant rise.
For the sake of comparison if your broadband connection gives you 10Mbps (as I recall the UK average is now around 12Mbps) then the 6.14Tb capacity at LINX is about six hundred thousand times faster.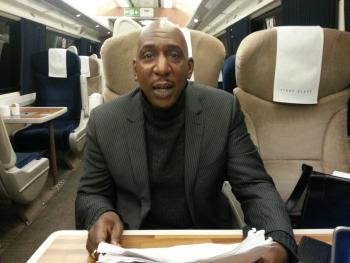 Now to the "funny" bit. I bumped into a neighbour of mine on the platform at Newark Northgate station. Colin McFarlane is an actOr1.  He lives round the corner from me. Colin is working on a very interesting project that should hit the streets next year. It has a technical slant that I will talk about sometime in 2013.
You might know Colin as the Police Commissioner in one of the Batman movies or working with Rowan Atkinson in The Thin Blue Line. I'm sure he's been in other things but not being much of a TV watcher I don't know them.
Colin was on his way to Paris to record a cartoon voiceover and on his way was stopping off in London to audition for a stage show. He had a wodge of scripts in his hand and asked if I would help him to remember his lines.
Bear in mind we were in the quiet coach. So there I was reading a classic black American script in an American accent whilst Colin performed in the seat in front of me. I could almost hear the audience, breathless in anticipation of what was to come. Being in the quiet coach we could hear a pin drop. Very dramatic!
We finished the script, the rest of the coach applauded (very quietly) 2, the train pulled into Kings Cross and we went our separate ways – he to his audition and me to the TUC centre for LINX79. Colin did tell me the name of the play but I won't share it in case he decides not to take the part. He is bound to be offered it, natch.
1 I left the capital O there to make sure you got the pronunciation right 🙂
2 Only joking there, they didn't – I'm sure it was my fault not Colin's, or maybe we were being suitably quiet