Terry Hughes has just got himself a Google Chromecast dongle. In Google's own words "With Chromecast, you can easily enjoy your favorite online entertainment on your HDTV—movies, TV shows, music, and more from Netflix, YouTube, Hulu Plus, Google Play Movies and Music, and Chrome." Must have been Google's spiel because I wouldn't spell favourite like that.
Anyway I spotted on Facebook that Terry had gotten (just pulling your leg) a Chromecast and he agreed to do a review for the blog. Not being much of a TV buff myself it's the only way it was gonna happen (there I go again) in the near term.
Here is what Terry has to say on the device: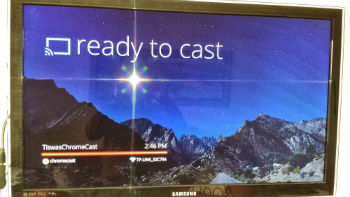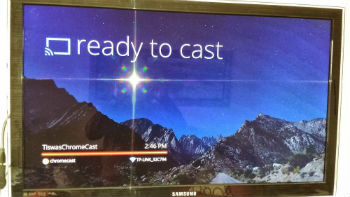 I've used various media steaming devices for several years, Apple TV, Android MK802, etc, all with various results. Today, I am a UK owner of a Google Chromecast device, purchased from Amazon.com, as one of a limited number of purchasers who got it for £34 including shipping and handling. This a quick review, considering I have only owned it for 5 days.
This device is a $35 streaming dongle that plugs into your TV's HDMI port. You can use it to stream online videos from YouTube, Netflix, and Chrome browser, and use your tablet, mobile phone, or computer, as a remote control. (PC or MAC)
If you use your phone to start it off (Samsung Galaxy S4 in my case) it doesn't stream videos directly to your Chromecast dongle. Instead, it just tells the device which video it should stream from the cloud. That means that you can use your phone for something else, once the stream starts. I even rebooted my phone whilst streaming to test this.
Simple Setup
It really is as simple as plugging in the device into a spare HDMI socket, and connecting power via the supplied adaptor, or from a TV USB port if you have one.
Now Google doesn't currently allow Chromecast in the UK Play store (October 2013), so I had to get it via other means to setup the initial way in which the Chromecast device know about your router details. I expect this to change quickly during the next Google Event at the end of the month.
Once plugged in, enter the password of your local Wi-Fi network, and you're all set to run. The device has Wi-Fi built in and doesn't need Wi-Fi on your TV.
Streaming YouTube
My main use for Chromecast right now is YouTube, and I have now streamed my fair share of videos from that site in the last few days. Overall, streaming worked really well, simply by clicking an icon that appears in the YouTube menu, and choosing where to stream too. Why Choose? Well, you could actually have multiple Chromecast devices in each room. I don't as yet 😉 I have now successfully got this to work from the above phone, Nexus 7 Tablet, and Asus notebook, all with wireless connection to the same router.
What other Apps work?
In total (so far) I have managed to get working:
Google Play for movies and music
Netflix
Chrome browser (with extension) for desktop and video playback (mp4, m4v, avi and mpeg)
BBC Iplayer via Chrome browser
What do I think?
I love it! After using Miracast, long HDMI cables, small PC under the TV and more, it's now my main device for streaming YouTube, Netflix and more in High definition, with good sound and obvious lip-sync for movies.
FOR
Streams Android to a big TV
Works with MAC, PC's, Tablets
Easy to setup and transport
Cheapest media adapter
AGAINST
Early days, so limited apps (Pandora, Hulu Plus, and HBO Go are all expected to be next )
Mirroring limited to browser tab
Windows Phone not supported
Chrome is the only supported browser
Can't store files directly on the device.
THE END
Thanks Terry – I owe you a beer
Footnote – this post is getting quite a bit of interest. Google Chromecast seems to be available to buy in the UK at Amazon.

If this review was useful you should also check out these other Chromecast reviews on this blog here and here.
Update 17th March 2014 – Google Chromecast to become available in the UK – leading to lots of visitors to reviews on this site.