2012 or as the BBC puts it "Summer of Sports on Steroids" 1 is going to be another milestone year for the ISP industry with the UK playing host to the Olympic games and another record anticipated for internet traffic levels. On Wednesday at the ISPA conference we had Jane Weedon, Controller of Business Development at the BBC talking about their preparations for the games.
The coverage in 2012 is going to be comprehensive with pretty much 100% of the sport available to watch as it happens – up to 27 simultaneous channels at the peak towards the end of the second week. This will have grown from perhaps 15-20% of coverage at the Sydney games 35% in Athens and 65% in Beijing (click on the header photo for graphic illustration).
The peak traffic during the South Africa Football World Cup hit 450Gbps with everyone going online to watch the England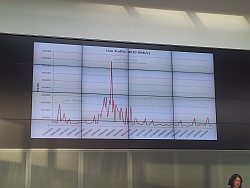 v Slovenia match. For perspective this year so far iPlayer traffic has peaked at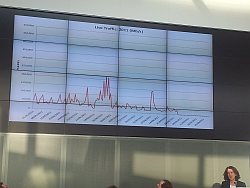 220Gbps.
So look out ISPs.
The forecasting of traffic levels for these games is in reality going to be very difficult. On the higher demand side the games are on home territory and will appeal to a wider demographic than the Football World Cup. To counter this device proliferation may lead to the streaming being distributed over a wider range of media – 3G mobiles and tablets, public WiFi zones, offices providing big TV screens and the fact that many folk may well take the two weeks of the games off on holiday.
Medals success for Team GB is also going to be an influencing factor.
The Beeb has gone into significant detail in estimating demand on a session by session basis and has come up with a forecast of  10 x the traffic levels for London as they saw in Beijing. That's 1Terabits a second 2  at the peak in streams averaging 1Mbps.
That's enough Olympic bits for the moment but there is so much interest in this subject looking ahead I'm going  to be looking out for more Olympic stories to share.
1 Steroids is perhaps an unfortunate word to use in this context
2  Nobody is going to hold them to this forecast but it certainly gives us all an indication of what to expect