If you have ever stood in PC World and wondered whether to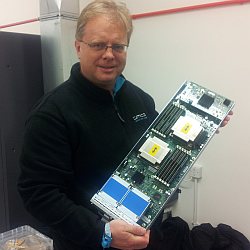 go for the the 4Gigs of RAM with 1Terabyte hard drive or the 6 Gigs which is a little bit more expensive then cop this baby.
Personally I opted for the 96Gig of RAM with dual 10 Terabyte hard drive (expandable) and dual 6 core Xeon processors.  You get my drift?
We have ten of these in two chasses of 5 just to get going. Note the Cisco UCS B200 blade server does come with two onboard hard drives but the discerning host will of course ignore these if he is at all interested in MTBF. Everything else on the board is solid state.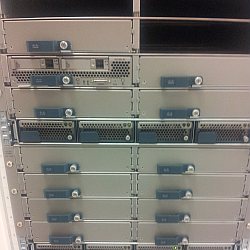 The next picture is of the chassis front and back.
Front view just has the one blade in it at the time the picture was taken.
You can see the four power supplies (N+2) in a line below the blade (circled on the larger photo – click to see). The last two photos are the rear of the chassis fully populated with fans – cool I thought ( 🙂 ) and the schematic that is printed on top of each blade – it will interest someone.