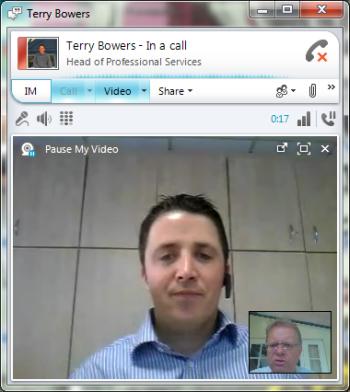 This good looking boy in the screenshot is Terry Bowers, Head of Professional Services at Timico Technology Group business Redwood Telecommunications. We are obviously engaged in serious conversation as neither of us is smiling.
The client itself is a feature of Microsoft's Lync, something we decided to play with at Redwood following the UC Expo (UC = Unified Communications) trade show earlier this year. Redwood now have it installed at a number of their customers and it is regularly used in communications between these companies and also with suppliers.
We are using an all in one Lync box from Active Communications, This is a lovely appliance that removes the need to deploy the complexity of servers1 that has been Lync (note innovative & brand new collective noun). ACS have not only integrated Lync but have done it using virtualisation which means you can deploy it within your own virtual infrastructure. Also it scales very nicely.
I use a number of multimedia clients such as the one shown in the screenshot. There's Timico's own Genband based Outlook client, Google and Skype. All are used to talk to different communities and whilst there are some differences they typically all work well.
A few observations arise:
One of my first actions on getting Lync was to add a pal who is also a customer to my friends list and send him an Instant Message. He was surprised to get the IM because he was just piloting the technology and thought they had locked all communications down to internal users only.
You can either set Lync to "Open Federation" which allows everyone and anyone to contact you or restrict access to white listed domains only. Open Federation does mean that anyone could send call you or send IMs simply by using your work email address. Locking down Lync makes it harder to access the people in your business.
A business needs to think carefully about how it wants to work here. In the old fashioned world of the plain old telephone system anyone can call anyone else. In your company you may have a receptionist who can screen calls but most people these days have their own direct number.
These new Unified Communications tools offer far more powerful features than POTS. Features that allow quick and efficient transfer of information. In my mind why would you want to constrain your staff and not give them full control over their comms. After all every transaction is logged so if you want to know who was talking to who, for example for disciplinary purposes with a rogue staff member, you can do.
Skype and Google offer similar UC features to Lync but not the desktop sharing where you can hand over control of your machine to the remote person. IT managers might want to think hard about who is allowed this feature for talking to outsiders.
I remember in the early days of using Skype /I would often turn down very suspicious requests to talk from all sorts of weird people (hi I'm Carlos from Columbia!). I don't seem to these days, either because this problem has gone away, there are too many people using Skype for me to be noticed or  I don't use it often enough. I typically only switch on Skype for prearranged conversations – people's status messages rarely seem to change.
Access management generally could be left to employees themselves. I carefully screen Google+ and Twitter followers for follow backs – there are some pretty dodgy looking accounts out there. I could do the same for Lync. I'm sure all of us block emails from certain people – in my case mostly recruitment consultants who seem to delight in spamming me with CVs of "very interesting looking candidates" that are available to start immediately.
The power of UC can be illustrated with this nice little anecdote from one of our Biz Dev guys Greg Easton. Greg had set up a prospect with a trial Lync client. He was pitching a PBX, connectivity etc and had also introduced Lync into the conversation. The customer was based in Rotterdam and had placed an order for a new Mitel PBX from a Netherlands based reseller. They let him down badly on delivering and he was desperate for a solution, saw Greg was available on Lync, got chatting, shared his problem and within 2 hours Greg had an order for £60K on his desk. Impressivo. My kind of sale!
Much manoeuvring is going on in the UC space. The market is big and I think you would have to bet that Microsoft will be one of the winners. In the meantime I have to play with all of them!
If you want to hook up with me my Lync address for the moment is [email protected]. I don't pick up emails to that account. No spammers though. Networking only otherwise you'll get blocked.
1 In a normal Lync deployment you need the following servers:
Front End Server
Inbound Routing
Outbound Routing
Voicemail Routing
IM/Presence Server
Backend SQL Server
User information
System Configuration
QOE Monitoring & Archiving CDR
Edge Server (Located in the DMZ_
Allows access to mobile devices (Tablets/Smart Phones)
Allows access for federation to other businesses
Allows access for federation to Public IM Clouds (AOL/Yahoo/MSN)
Remote Users
Audio/Wed/Video collaboration with external parties
Mediation Server
Provide connectivity to SIP/PSTN Gateways or 3rd party phone systems
Exchange 2007/2010 UM
Active Directory
Lync integrates to AD for some admin functions

Note in a traditional Lync deployment you can only have one AD environment.