Is broadband fit for purpose, writes Lindsey Annison
Some years ago a few of us touted the notion that broadband could become an election issue on the next hustings. And it sort of did, although not to the extent that many of us at grassroots without a connection would have liked. It triggered some hastily written speeches for Party Conferences, though, and some grandiose promises which of course have never been implemented.
As we run up to the next election (<groan> Have the last lot even achieved anything yet?!), perhaps it is time to bite the bullet and consider some of the aspects of broadband that seriously need to be taken on board by those campaigning on the hustings, and also by those who have desks in Whitehall and Westminster, etc. (Could it be they all work from home these days? Doubtful, but it'd be nice to think that at least a few know the difficulties of teleworking in modern day Britain.)
Philip Virgo's rather canny A Confucian view of UK broadband, spectrum and cybersecurity can be found on his Computer Weekly blog this week, and as we can but hope that the powers-that-be can actually find a free moment to read I would like to expound a little on the piece's first section, to start educating our potential candidates for those doorstep meetings they shall soon be starting. Last week at TechQT the three considerations Virgo mentions were covered — transmission, capacity and protection — and Martin Geddes finally nailed it (in his inimitable style) to being a simple question that any person can ask and answer:  Is my broadband fit for purpose?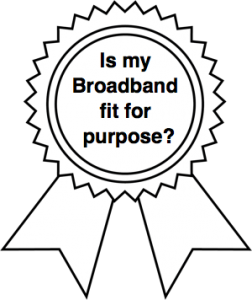 Even the most non-techie person can assess whether or not the connection that they are paying for (or are using for free in a hotspot) is FIT FOR PURPOSE. It either works to do what you are endeavoring to, or it doesn't. Simples.
Waiving wayleaves may seem like a simple solution to one problem, and the arguments given by Philip Virgo's Confucius contributor covers some of the reasons why this is so. However, it goes beyond wayleaves to my old bugbear, fibre tax. We have made it nearly impossible for new entrants to enter a level playing field should they wish to play the fibre game.  Aidan Pauls' slide show on the UK VOA fibre tax illustrates just how problematic the issue is, and though it may be from 2010, sadly nothing notable has changed since 2000.
As a regulator, Ofcom is over-populated with ex-Telco employees and is toothless. Well, not so much toothless, but it is as if they are putting their dentures back in after a night's sleep whenever circumstances require they react to current events of the day/week/month or year in a timely fashion. And that needs to change, and fast, if Britain is to catch up with other nations. Plenty of information is out there regarding developments, lessons learnt, what has been tried and tested, etc., so maybe the Ofcom guys and gals just need to get out more?!
Listen to the voters!  Too often our candidates fail to do enough of this simple and essential task, and thus many of those who will be walking the pavements with their pretty rosettes are not sufficiently well-informed. And because they are not well-informed they assume that the constituents are in a similar boat, which is simply not the case. At the very least, the average householder can answer the Is my broadband fit for purpose? question. Enough "No." responses, offered hand-in-hand with the odd constituent who pipes up to tell a prospective parliamentary candidate exactly how and why this is causing problems with life/work/play, and the message just might make its way back to the Houses in #thatlondon.
Can but hope.  Toodlepip till next time.
Related posts: