For some time I have been thinking of writing a post while on the move, to see what that might bring to the page. Hardly original, the idea is somewhat out of my wheelhouse, if for no other reason than the fact that I truly loathe typing anything longer than a text message on a virtual keyboard. Not that I have some kind of a hoity-toity "They aren't true keyboards" attitude (though I do, and they aren't), but as a touch typist who has been clocked at 120 wpm (words-per-minute, for the acronym challenged) I find it wickedly frustrating to have to look at the keys to form the words that are in my head…not to mention slow down said head to capture the whatnot those words form. Still, being a staunch proponent of digital progress (mostly), for you, friend reader, I will endure. And perhaps even have a little fun, too.
I first thought to try my hand at mobile writing with the no-longer-so-recent (February) announcement that Microsoft was offering an iOS7 version of their Office 365 applications for free. As the Guv'nor of two iOS7-cursed devices (the iPhone 4 I whinge here about replacing on a somewhat regular basis, and an iPad Mini pass-me-down), this news pricked my eyes, and I quickly grabbed up the apps for both Word and Excel. I didn't fire 'em up for use right away — AppleKory and my keyboard hadn't left the building, so why bother? — but I was content knowing I had the apps, for…well, whenever.
One day shortly thereafter, it was whenever. I was at Cafè Lomi, just sitting there watching the wheels go 'round and 'round (I really love to watch them roll), when I thought I'd go all mobile-writer-guy on the good visitors of trefor.net. I pulled iPadKory from my bag, coded it, and punched the icon for Word. Nice looking app. Opens straight to a New Document page, serving up all kinds of document templates, such as Brochure, Invoice, Proposal…School Newsletter. Colorful. Friendly. Microsofty.
I punch New Blank Document. I get a Word-looking page with a orange bar near the top that reads Read-Only. To create and edit, activate with an eligible Office 365 subscription.

Hmm. That doesn't sound very free. Or friendly. I do happen to have an Outlook.com account, though, so maybe it wants that (though I was already thinking how lost the casual first-time user without such an account would react on seeing the top-screen note). I punch Activate, which leads immediately to a Subscription dialogue. All of a sudden I am no longer having fun. In for a penny, though, right? I follow the path of dialogue windows, employing my Outlook.com credentials as needed, until I am finally staring at Buy a Subscription. I only need to shell out $99.99 a year to use my sweet new free Office 365 iOS7 application!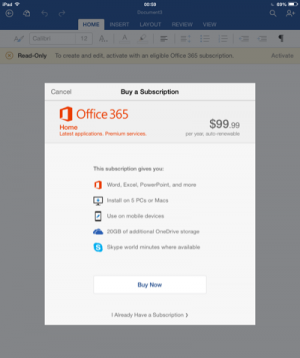 Disillusioned, discouraged, and feeling just plain 'dissed, I slapped iPadKory shut, threw it in my bag, and left for home. "I didn't really want to write a post on a tablet using a virtual keyboard anyway. Phooey." And the Word app? Deleted, with prejudice (except, that is, for my reinstalling it today to check my memory for this post and to grab screenshots).
And that is where it all would have stayed — at "Phooey." — had Google not made their own announcement of a free Google Docs app a couple of weeks back. Of course, I immediately DL'ed the app, and this time I launched it forthwith to make sure it could actually be put to some use.
Voila, enablement. And as for writing on the run and virtual keyboards? Well, I made it this far…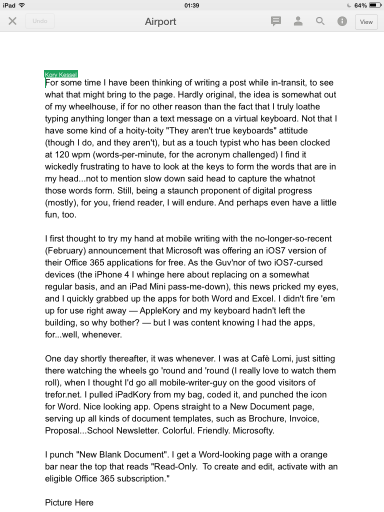 Related posts: