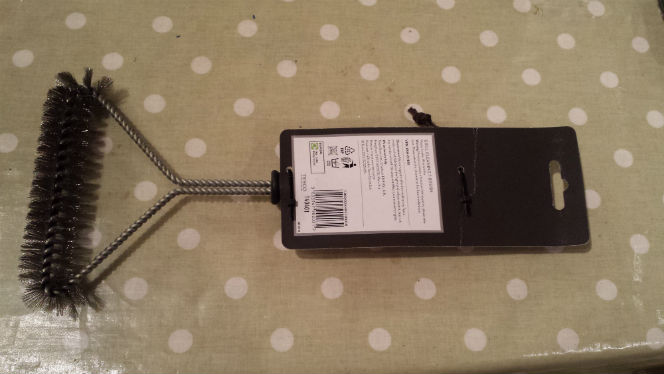 What's a grill cleaning t brush I hear you say? There are two possible answers. It's either
three quid from Tesco  or
a wire brush for cleaning barbecues
Or in this case both of the above.
There are a few observations to be made in respect of this particular grill cleaning t brush. One is that it is much cheaper than the grill cleaning t brushes from leading bbq manufacturer  Weber whose highly similar looking product retails between eight and eleven pounds depending on where you get it from. No doubt there will be some superior design nuances in the Weber version.
Then there is the very sensible and correct warning on the Tesco product packaging "Product contains a functional sharp point, please take care. Please retain this information for future reference." Thank you Tesco. Yes I will take care although I'm not sure about the practicalities of keeping the information label.
Next time I clean the bbq how quickly would I be able to retrieve this packaging for a reminding read from the drawer full of other  similar bits of cardboard for the strimmer, lawnmower, various sets of knives, hedge trimmer and the wide variety of other previously purchased products with sharp bits to them. Perhaps Tesco should provide advice on this – a guide to warning label filing for beginners maybe.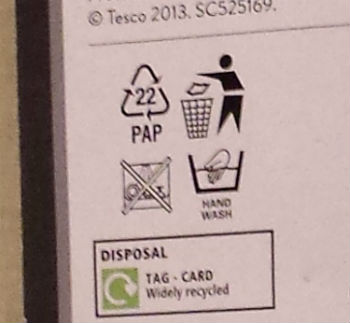 Finally there are the guidelines further on down the packaging indicating that I should both dispose of it in a bin and recycle it. Oh and the recommendation is that this particular t brush should be hand washed rather than placed in the dishwasher – I assume that's the sign with the big X on it.
No suggestions as to how I should hand wash the brush whilst taking care to avoid any functional sharp points. Perhaps they sell a complementary set of armoured gloves for use in the sink.
Well I dunno. I think I'm confused. Maybe I'll just chuck the paperwork and not bother cleaning the brush which would in any case be a first in the Davies household.
Does anyone know what the 22 PAP symbol thingy is? Perhaps it is a trick symbol and doesn't have a meaning.
I know nothing.
Other unbelievably good bbq related reads include:
Rainfall measurement techniques – the bbq method
No socks – the bbq season is upon us