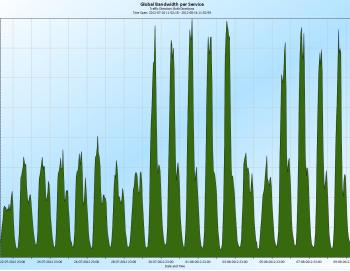 Thought this would interest you. It's a chart showing the http traffic on our broadband network in the run up to and during the London 2012 Olympics.
The change is quite amazing. This growth isn't representative of all the internet traffic during that time – that showed an overall increase of 30% or so.
As a business ISP our peak traffic time is during the day with a smaller local maximum (ok mini peak) in the evening when homeworkers and road warriors get back and use their work-provided broadband.
We still saw the evening  mini peaks but they are dwarfed by the daytime ones.
That's all folks…