Richard Cooper runs the BBC's online platforms. He was guest speaker at the ISPA Conference last week and his subject was naturally iPlayer which with 245 million requests in September has enjoyed 23% year on year growth.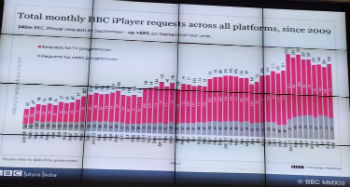 I took pics of some of his slides – this first one shows the increase in requests. The step function in January is interesting. The BBC have labelled last Christmas as the year of the tablet. The growth in traffic is largely down to the increase in people getting tablets as Christmas presents. Apparently you could almost plot the rate of opening of presents based on the growth in the traffic on the day.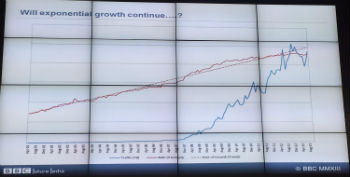 The second pic shows the exponential month by month growth in iPlayer streaming traffic expressed in TeraBytes. Impressivo. Apparently, according to Richard Cooper, the perceived wisdom is that this rate of traffic growth is set to continue until 2025, based I think on the continued development of Video quality and usage until the point comes where the human eye can benefit no more.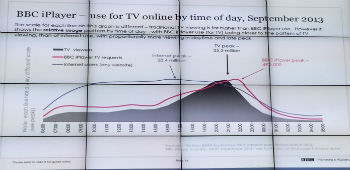 Finally we have a chart that shows how TV viewing habits are changing now that people are watching programmes on more than just the TV. Internet usage peaks at approx 5pm – this includes all web browsing. TV watching peaks just after 9pm and iPlayer requests peak around an hour later. People are taking their tablets upstairs and watching in bed.
A few observations spring to mind. People are starting to do everything online. Music listening is moving to streaming, movies are moving to catch up TV and video on demand and why would you bother with physical copies of games? The time is rapidly approaching where people won't bother with hard copies of anything (me excepted – I'll be a book buyer until I pop my clogs – I am of a certain generation and won't buy an eBook). On this basis there'll be hardly anything left for people to open on Christmas Day – it'll all just be brown envelopes with gift vouchers & subscription codes for downloads. The frenzied throwing of paper around the front room will become a thing of the past. Sad really.
The other snippet is that apparently with 4k video you need to be sat 8 feet away from a 10 foot diagonal screen to get the benefit. Screen tech is getting better than our own eye tech. Not sure I completely understand this one but it's all to do with pixel counts of screens versus what your eye can interpret. Maybe someone can elaborate. Just maybe (I think that's an advert for something – not sure what).
Whatever happens it's going to be some time before traditional broadcast TV is replaced by streaming video – there just isn't enough bandwidth available. Bring it on.
PS pics aren't perfect soz – better than nothing as you can see the data.