In my house I'm known as Last Minute Paulie, as 'Why do today what you can put off until tomorrow?' is a motto one could easily associate with me. Rather than get the lawn mower out this week, for instance, I've been happily watching the grass grow, employing the ready excuse of it being too damp while bestowing the virtues of a natural meadow look to the chap a couple of doors down who obviously doesn't approve.
In spite of my proclivity to procrastinate, though, to ensure a good race day experience I am planning to be prepared way in advance. By that I mean sitting on my backside, browsing running websites for tips and not acting on them. As you would expect, of course, the advice to be had is entirely practical.  Pace yourself…eat the right amounts of the right foods…make sure to use the facilities before the gun goes off…etcetera and so forth. I know, though, from my limited racing experience that these mostly-helpful websites will fail to mention the following: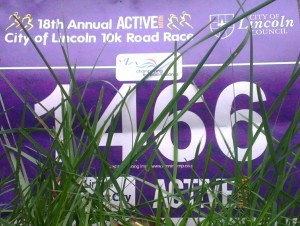 Enjoy running on the road.  In the first road race I ever took part in I was almost overwhelmed at the realization that the road was closed especially for me and my fellow racers, and with every race since I have enjoyed the same feeling. In fact, this is almost worth the entry fee alone, especially as the local residents have no doubt been moaning about it on social media for a few weeks prior.
Practice drinking water from a flimsy plastic cup while running.  Once the start is out of the way and the adrenalin has done a bunk you'll quickly find your flow and feel good. Just after that, you will need to jostle in front of other runners to grab a tiny drink of water from a friendly outstretched hand. The battle then becomes keeping the fluid in the container as you jog, trying desperately to swallow some from time to time rather than spill it down your front. Soon after that you will be tempted to pour any remaining water over your head. Don't to that!  Not only does it not look even half as impressive as you think it does, but the resulting drips down the back of your neck will be on your nerves for the next kilometer.
Don't get hammered the night before.  Cruelly, most races are held on a Sunday morning, which in a culture that rewards its week's hard work by getting sozzled in front of "Ant and Dec" on a Saturday night can mean big trouble. My personal practice is to drink heavily the afternoon before the race and to sleep though Saturday night, resolved to catching up with the best "Ant and Dec" bits on YouTube the following day. These are my own views, naturally, and I would advise anyone to watch "Ant and Dec" responsibly as, in my opinion, they are getting too big for their boots.
Don't be too surprised that everyone is staring at you.  You spend your training time hoping that nobody is taking a blind bit of notice that you are jogging, which is in great contrast to race day when you run around the streets not only seeking the public's attention but wanting them to cheer and clap as you sweat your way past. This has long been and remains the most peculiar part of the race day experience for me. I wouldn't be at all surprised if at some point in a race someone starts shouting "What are you all staring at?" to the assembled crowd, and I wouldn't be surprised if that person was me – a little hungover from ridiculously drinking the afternoon away the day before, water dripping down my neck, and sporting a grin because I'm on the road and not getting run over.
Good luck everyone!
Paul Tyler presents Lincoln A to Z on Siren FM
@LincolnAtoZ
Related posts: