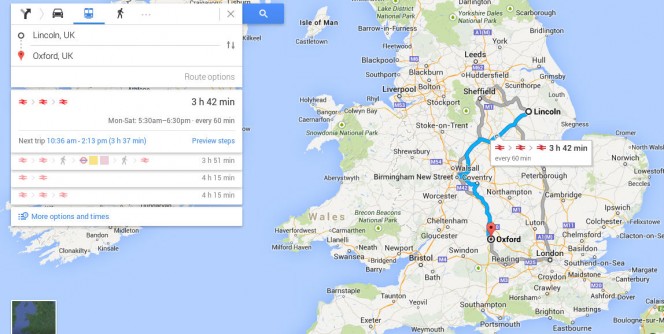 As previously mentioned am picking up kid1 from Oxford today and transplanting him to Laandan, innit.  Just checked on travel times with google maps to see when I need to set off. Intended to go to the gym before hitting the road. Unfortunately I haven't got time to go to the gym. Google tells me the trip will take 2 hours 37 minutes to do the 132 miles and I will also want to stop for a spot of lunch, a cheeky KFC maybe (only for convenience when travelling of course).
That means I should have headed to the gym a good half an hour ago. Ah well.
In looking at google maps I wondered how long it would take to walk. That would make up for not going to the gym. 40 hours but only 121 miles. It's a more direct route and avoids motorways obvs. Not practical as I need to be in Oxford by 2pm and the whole point of the journey is that I need the car to carry all kid1's stuff. Taking public transport is also not an option as it would take 3 hours 42 mins and as per the walking option we wouldn't have the car to carry his stuff in our onward direction.
For completeness I thought you'd like to know that were I to cycle it should take 12 hours 3 minutes to do the 141 miles. Don't ask why they tell cyclists to take a longer route than the pedestrians. Maybe the latter uses pedestrian precincts for part of the trip. Would make sense as one could probably buy a sandwich and a bottle of water from a shop from the pedestrian precinct. The getting there by plane option is greyed out, presumably because google realises that Lincoln only has RAF airfields and no commercial airport.
It does somewhat come as a surprise that google hasn't recommended any hotels for an overnight stay on both the pedestrian and cycling maps. Surely they don't think I'd be able to walk for 40 hours without an overnight stay. It would be a miracle if I could walk that distance full stop, without getting into training for it. Same applies for the cycling – one's bum would get particularly sore I'd imagine.
So the car is it and it is nearly time for me to hit the road. Before I go I'd like to relate a telephone conversation with Kevin Murphy of BT (he of running the Olympics project for BT fame and who now runs voice for that company). I was at the garage getting my car boot hydraulics fixed so that the boot would stay up without my having to use a broom handle to prop it up – v handy when moving a kid from Oxford to Laandan. I was on my mobile in the garage canteen room with table and chair and the darn phone got cut off three times. It as only after the third time and I was looking out of the window when I saw Dave the mechanic gesturing.  Whenever he moved the car the bloomin hands free system took over the phone audio and I lost the conversation.
I switched off bluetooth, rang Kevin back again and finished the discussion. Kevin is coming to do the Keynote speech at ITSPA's forthcoming 10th Anniversary celebrations on July 3rd. Check it out here. If you are in the VoIP game you should be there.
That's it. Gotta go to Oxford. Ciao.
Other fairly interesting google maps posts:
Jet tries to land in Russell Square
Google location incorrect since moving home