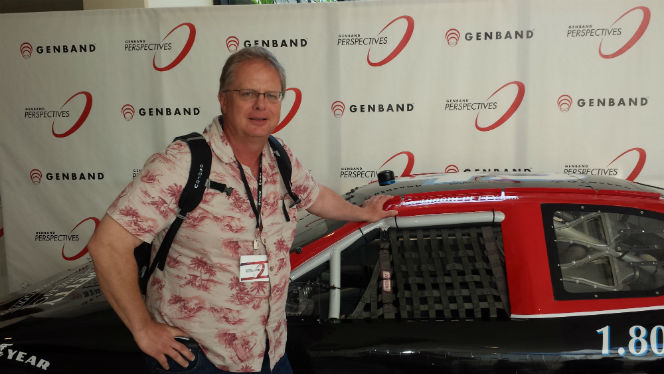 Day6 of the #orlandoroadtrip began with a conversation in the lift.  I was stood there in my Hawaiian shirt with a Genband Perspectives 14 badge hung around my neck when a girl started talking to me: "We don't have your name in the UK". She had read my badge. I dunno. I told her I was from Lincoln!
Breakfast was a bacon bagel sandwich with HP sauce (brought my own) , glass of milk and tangerine juice.
The #GBP14 conference proper has begun. I'm going to share some highlights which will in the main be sound bites and general impressions – there isn't time to do full blown blog posts on every subject.
Genband Perspectives 14 was opened by Genband CEO David Walsh. Impressive guy. His talk made me think of one I attended where Marc Benioff, CEO of Salesforce.com used the word "awesome" about fifty times in every sentence, interspersed with "amazing". The only common features of the two talks were the fact that they were both American and both leaders in their field.
Walsh was a very believable individual. I switched off when listening to Benioff – it was a pure sales pitch. I paid attention to the Genband CEO. My own experience of working with Genband has really been limited to their SIP Applications Server combined with a smidgeon of Session Border Controller. Walsh showed there was a lot more to the company.
His talk was generally an observation that the market was both moving and growing very quickly and that technology companies needed to make investment bets up to seven years before the market is ready for their products. What he has done at Genband is to assemble a set of capabilities through the acquisition of business who have already made these significant investments.
To understand the way the world is changing it is useful to look at some businesses in similar markets. Spotify is now worth more than Warner Music, Uber is worth more than Avis and Hertz combined and Instagram worth more than Kodak.
You can arguably take company valuations with a pinch of salt. In the high technology game people seem willing to pay stupid money for the promise of future returns. Notwithstanding this the comparisons with old and new are valid.
As a startup businessman I try to only use modern technology. For example trefor.net doesn't have a phone number. We rely on OTT services such as Skype and Google Hangouts, only use online banking and use SAAS products such as Freeagent.
We got a nice quadruple play case study from David Walsh as to life in the cloud based world. Kids these days arrange parties using Tinder. You tick on people's images you might like to invite along and if they approve of your image you are both hooked up.
The quad play goes like this:
Use tinder to find a date
Use uber to get a taxi to the date
Use opentable to grab some dinner with the date
Use airbnb to get a room…
Apparently this is an evolution of the triple play presented at last year's Perspectives13 conference. One wonders what a five play might look like in 2015.
More later. Ciao amigos…
Complete set of really fantastic posts on the #orlandoroadtrip  to date:
Day 5 – golf
Day 4 – Kennedy Space Centre
Day 3 – Hawaiian Shirts, alligators and beer
Day 2 – BA2037
Day 1 – Ronnie Scotts & The Haywood Sisters